Culture Rules: The Leader's Guide to Creating the Ultimate Competitive Advantage
Spiral-Bound | March 7, 2023
Mark Miller
Rebinding by Spiralverse™
★★★★☆+ from 31 to 100 ratings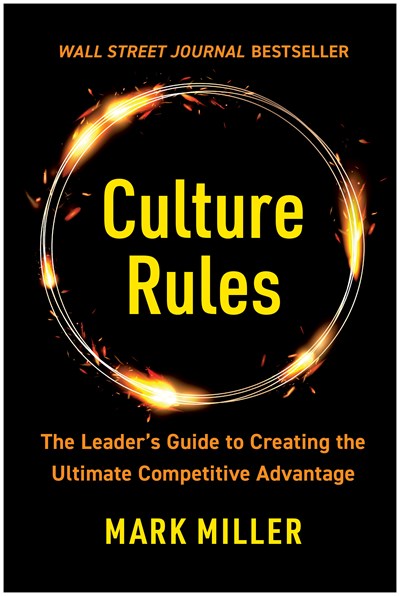 Wall Street Journal Bestseller

Publishers Weekly Bestseller


Create the company culture of your dreams—and make it last.

In every organization, people either love their work or loathe it; they contribute or coast. Your culture can be soul enriching or soul crushing. Your culture gives life or takes it. Your employees care deeply or couldn't care less. Your organization's culture can become the most valuable intangible asset you steward. You can build a high performance culture—a place where people and the organization win.

But cultures like this don't just happen overnight—leaders are responsible for fostering them. So, what really contributes to a thriving culture? What can a leader do to make a difference? Mark Miller and his team conducted a global study with more than 6,000 participants from ten countries to find the answers to these questions and more.

In Culture Rules, leaders will learn the three simple rules that determine the health, vitality, and sustainability of culture, enabling them to build organizations that uncover untapped potential and transform it into performance.

Play the game well and you'll be astonished by what your organization can become. Culture rules!
Mark Miller serves as the Vice President of High Performance Leadership at Chick-fil-A, Inc. He began his career at Chick-fil-A more than four decades ago as an hourly team member in one of the chain's local restaurants. Shortly thereafter, he became the 16th corporate employee when he went to work in the warehouse. Since that day, he has served in leadership roles across the business including, Corporate Communications, Quality & Customer Satisfaction, Restaurant Operations, Training & Development, and more. During Mark's tenure, Chick-fil-A's annual sales have grown from $75 million to almost $20 billion.

For the last 25 years, Mark has focused his energy on serving leaders: helping them grow themselves, their teams, and their organizations. He has traveled the world encouraging and equipping leaders. Mark began writing years ago when he teamed up with Ken Blanchard to write the international bestseller, The Secret. Over one million copies of Mark's books are in print in 25 languages. Culture Rules is his 11th book to date.

Author Residence: Marietta, GA