Make Your Own Money: How Kids Can Earn It, Save It, Spend It, and Dream Big, with Danny Dollar, the King of Cha-Ching
Spiral-Bound | October 26, 2021
Ty Allan Jackson, Nicole Miles (Illustrated by)
Rebinding by Spiralverse™
★★★★☆+ from Up to 30 ratings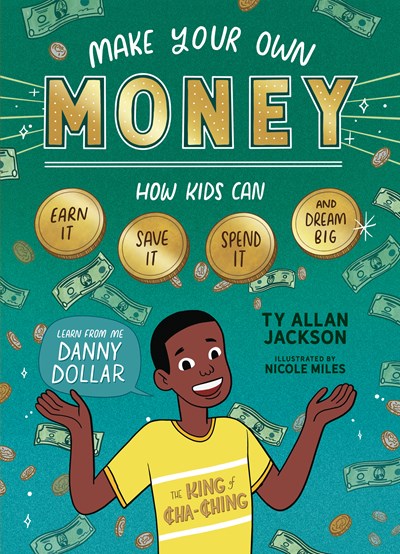 This fun and practical guide to financial literacy and entrepreneurship inspires kids to dream big and teaches them to make, save, and spend wisely, one penny at a time.

Saving money for something? Then this is the book for you! Danny Dollar, the "King of Cha-Ching," will teach you to make money, save money, and spend money wisely—and to dream big! Maybe you get an allowance (clean the bathroom anyone?) or have been gifted money (birthday present?) but did you know that you can actually start a business and make your own money? Even as a kid! It's called being an entrepreneur.

Danny shares tips for starting your own business, like how to write a business plan and raise start-up money (the money you need to get your business going).
Plus, you'll learn how to open a bank account, create a budget, invest, and donate money. Danny will even introduce you to real life kids who are making their own money—and lots of it. Free yourself from having to ask your parents for money, and start making your own today!
"Jackson teaches kids step-by-step how to gain, save, invest, and spend their money. A fun and necessary read."
—Sidney Keys III, literacy activist CEO of Books N Bros

"So you want to be rich? And also, maybe, resilient, curious, patient, generous, and smart? This book is for you. Cha-Ching!"
—Catherine Newman, author of How to Be a Person

"'The awesome power of money' — that's the message this book delivers in a big, bold, beautiful way. Every kid deserves to grow up financially literate, and this book helps them do just that."
— Jeannine Glista and James McKenna, creators of BizKid$ and authors of How to Turn $100 into $1,000,000

"A lively, easy-to-read blueprint to foundational skills" — KPCW
Ty Allan Jackson is an award-winning children's book author, youth motivational speaker, and literacy advocate. A three-time TEDx presenter, he travels around the US inspiring children to read and educating adults about the impacts of illiteracy. Jackson's self-published books have been featured on CNN, NBC Nightly News, The Steve Harvey Show, PBS, and the Hallmark Channel. In 2020, he appeared on Marvel's Hero Project on Disney+ and a Good Morning America segment featuring Sydney Keys, a young man who was inspired by Jackson's book Danny Dollar Millionaire Extraordinaire: The Lemonade Escapade to create an innovative book club for Black boys. Jackson is the cofounder of the Read or Else movement and the financial literacy program Danny Dollar Academy.