Go, Bikes, Go!: (Stocking Stuffer for Babies and Toddlers)
Spiral-Bound | April 16, 2019
Addie Boswell, Alexander Mostov (Illustrated by)
Rebinding by Spiralverse™
★★★☆☆+ from 31 to 100 ratings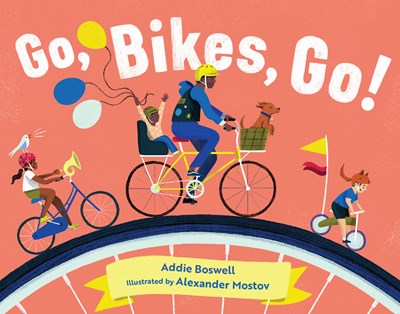 This fun and colorful board book introduces children to the joy of bike riding and bikes in many forms. There are big bikes, small bikes and extra tall bikes, and old bikes, new bikes and built-for-two bikes, and more!

Inspired by the strong biking culture and community in the Pacific Northwest, this board book features different types of bikes and the diverse people, young and old, who enjoy them. It features bikes children will recognize and some they can imagine, like bikes that wear shoes and bikes that fly.

The In Motion series of board books for little readers includes:
Go, Bikes, Go!
Go, Boats, Go!
Go, Planes, Go!
Go, Trucks, Go!
"Grab your helmets and get ready to zoom along with a colorful variety of bicycles, tricycles, racers, and cruisers in this delightful, high-energy tribute to all things pedal-driven."--Foreword Reviews

"After reading it three times consecutively with pleas for an encore, Go Bikes, Go! definitely wins the popular book award in our house at the moment. Unlike the shelves and shelves of board books focused on numbers, the alphabet, animals, or touch-and-feel in book stores, Go, Bikes, Go! is fresh in content, and subject matter, as it brings back memories of Go Dogs Go and Wacky Wednesday with its energetic tone, rhythmic text, buzzing illustrations, and unexpected twists."--Where the Board Books Are

"The colorful and active graphics clearly convey the excitement, freedom, and joy bike riding brings to this multicultural cast. . . .Grab a helmet and a caregiver or friend, then—go!"--Kirkus Reviews

"This exuberant little board book is a celebration of bicycles and the people who ride them. A nice choice for the toddler in your life."--Ann Edwards Cannon, bookseller


"Go, Bikes, Go! is a super funny and cute board book!"

ADDIE BOSWELL is a writer, artist, and muralist who lives in Portland, Oregon. Addie's first book, The Rain Stomper (Two Lions, 2008) won the 2009 Oregon Spirit Award. She was also included in Oregon Reads Aloud, a 2017 collection of the state's top authors and illustrators.

ALEXANDER MOSTOV is an illustrator who takes pride in making playful, accessible pictures. His inspiration is drawn from plants, animals, and midcentury modern design. He lives in Seattle with lots of books and a mischievous little dog named Dziga.