How to Whittle: 25 Beautiful Projects to Carve by Hand
Spiral-Bound |
Josh Nava
Rebinding by Spiralverse™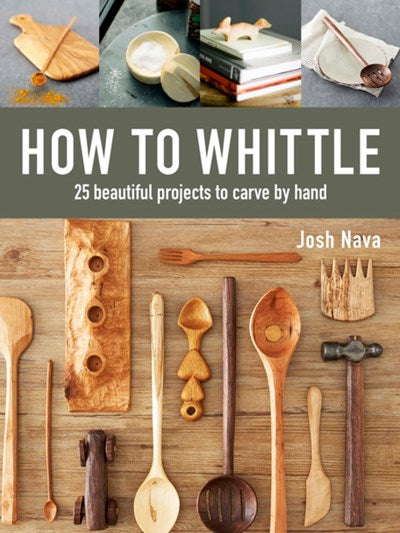 The age-old woodworking technique, whittling, is growing in popularity. How to Whittle presents 25 beautiful whittling projects to make and is paired with advice on selecting the best wood for your projects and details on finishes, making these simple projects ideal for beginners.
Full-color photography and step-by-step instructions guide whittling newbies through the process, from selecting and maintaining carving knives to mastering luxurious finishing techniques, ensuring success as they learn this craft.
Serious woodworkers will love the creative dimensions that whittling introduces to their projects.
Includes advice on selecting the best wood for your projects, selecting and maintaining carving knives to finishing techniques such as sanding, oiling, and curing surfaces.
Projects can be made using just a couple of knives and a piece of wood!
"This is a gorgeous book. It features 25 projects that are a mix of functional and decorative items, carrying on a centuries-old tradition. Nava does a wonderful job of distilling the topic of whittling into a concise, easy to follow book. The projects provide enough coverage to give you a wide range of capabilities. This is a wonderful book that will give you hours of enjoyment."
-Steve Branam / www.CloseGrain.com
Josh Nava is a hand carver and the co-founder of Suburban Pallet, a woodworking outfit in Nashville, Tennessee, which specializes in hand-crafted goods made from repurposed timber. In 2014 he completed the 365 Spoons project where he documented the carving of a spoon a day for a year and was the subject of a short film by Joe Gomez. Josh's work has been featured on websites including Life and Thyme and Fine Woodworking.