Barkcuterie: 25 Pawsome Snack Boards Your Dog Will Love
Spiral-Bound | April 18, 2023
Hammy & Olivia
Rebinding by Spiralverse™
★★★★☆+ from Up to 30 ratings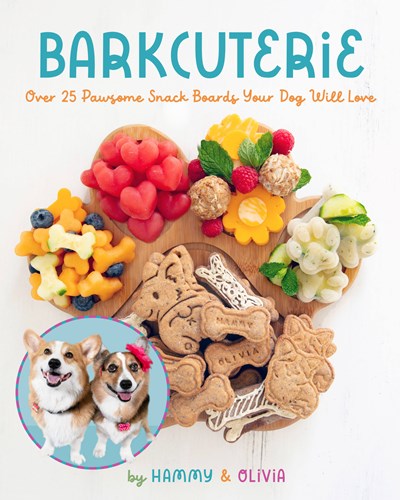 With
Barkcuterie
, create tasty boards for your furry companion.
Give your dog the love they deserve with these beautiful and fun food boards.

* As Featured on QVC's Pet Palooza *

Now you don't have to exclude your fur babies from the festive food with over 25 themed snack boards for holidays, special occasions, milestones, and just because. This special take on the classic charcuterie board is for every human's best friend. Curated by social media's favorite corgis, Hammy and Olivia (@hammyandolivia), each artfully designed barkcuterie board is chock-full of delicious homemade and store-bought dog treats. You'll have fun making the quick and easy boards and even more fun sharing all the goodies with your dog. For cat owners, don't worry! Hammy and Olivia have included a cat board for their feline friends.

So, dress up your pup, get the camera ready, and celebrate:

National Dog Day
Birthdays
Gotcha Day
Oktoberfest
Halloween
Thanksgiving
Christmas
New Year's Eve
Valentine's Day
St. Patrick's Day
Easter
Cinco de Mayo
Fourth of July
Everyday occasions
and more
Including
over 35 easy-to-make recipes for pupcakes, biscuits, donuts, and pupsicles
and adorable photos of Hammy and Olivia,
Barkcuterie
is the ultimate way to let your dog know how much you love them.
Hammy & Olivia are social media's favorite "talking dogs." Their family-centric, everyday-relatable shenanigans are sure to make you laugh or do an eye roll. Within one year, Hammy opened his own takeout cafe, and Olivia never misses an opportunity to voice her displeasure in any given situation.