Big Beautiful Ocean: A Photographic Exploration!
Spiral-Bound |
Kidsbooks Publishing
Rebinding by Spiralverse™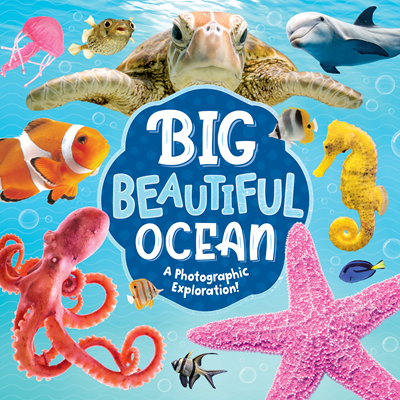 childrens book about the ocean; books about the ocean for kids; books about the ocean for children; spark curiosity; joy of learning; curiosity; early education; early learning; beautiful ocean; life under the sea; love of reading and learning; home schooling; home schooled; introduction to the ocean; early learners; fun ocean book; under the sea; home learning; home teaching; ocean animals; unique and eye-catching photos; exploring the oceans; sharks; whales; dolphins; jellyfish; starfish; sea turtles; octopus; seahorse; fish; squid; coral reefs
Did you know only 5% of the ocean has been explored? Think about all the animals just waiting to be seen! Littles ones will love exploring ocean animals with this big book full of unique and eye-catching photos. From reefs to shores and into the deep, the pictures capture the beauty of life under the sea, while playfully designed text highlights the images in fun ways. This book is sure to spark curiosity and a desire in children to learn more about the fascinating world around them.