End Your Carb Confusion: The Cookbook : 100 Carb-Customized Recipes from a Chef's Kitchen to Yours
Spiral-Bound | April 26, 2022
Scott Parker, Eric C. Westman,
Rebinding by Spiralverse™
★★★★☆+ from Up to 30 ratings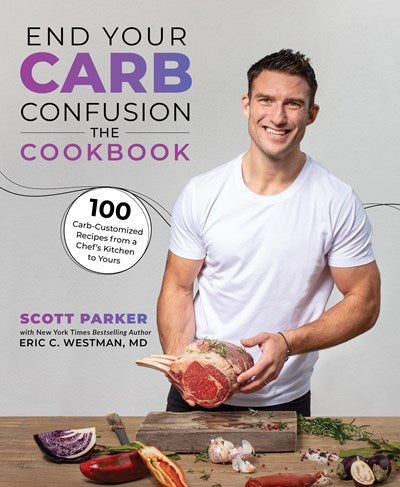 Dr. Eric Westman, Director of Duke University Keto Medicine Clinic, and world-renowned chef Scott Parker have teamed up to bring you a robust collection of restaurant-inspired, carb-conscious recipes.

Each recipe features fresh and healthy ingredients to meet your individual carb threshold and dietary needs.

End Your Carb Confusion: The Cookbook packs in 100 recipes that have been carefully crafted to fit within the three phases of Dr. Westman's acclaimed diet plan: low, moderate, and higher carb. This phased setup allows you to adjust your carbohydrate intake as needed to meet your health goals and maximize your long-term success.

Whether you are strict keto, low-carb, or just want to lighten up on carbs from time to time, this is your ultimate resource for delicious recipes. It features everything from family favorites to succulent steaks and perfect pairings, along with culinary tips from acclaimed chef Scott Parker on making the most of your dishes and flavor combinations. Scott has taken all the guesswork out of preparing delicious meals by creating an easy-to-follow format and simple recipes with accessible and familiar ingredients. End Your Carb Confusion: The Cookbook is complete with straightforward charts and guides to help you navigate each phase with ease and confidence.

Sample Recipes Include:

• Baked Salmon, Cumin-Spiced Cauliflower Rice, and Olive & Watercress Salad
• Pan-Fried Sirloin with Arugula & Pickled Onion Salad, Green Beans, and Parmesan
• Black Pepper Chicken Ramen
• 2-Minute Cheese & Chive Bread
• Seared Tuna, Avocado, Cucumber & Tomato Salad
• Marinated Mackerel with Radish & Smashed Avocado
• Lamb Kofta

Used as a standalone cookbook or in conjunction with Westman's bestselling book, End Your Carb Confusion, this new cookbook is for anyone looking to find better health or simply augment their recipe file. With Dr. Westman and Scott by your side, you will feel better than ever and love your time in the kitchen.
Scott Parker
Scott Parker trained as a chef at the prestigious Westminster Kingsway College in London. While mastering the culinary arts, Scott gained real-world experience while working at The Grosvenor House Hotel and The Bentley's Restaurant 1880 headed up by Andrew Turner. After receiving his diploma, Scott continued to fine-tune his skills at Pied à Terre before moving on to Claude Bosi's Hibiscus, where he spent two years training under the French master chef. Scott furthered his career at Joel Robuchon's L'atelier London and then teamed up with Daniel Clifford to work as sous chef and eventually head chef at the two Michelin-starred Midsummer House. Scott now runs the development kitchens for top South African retailer Woolworths.

Before working together on End Your Carb Confusion: The Cookbook, Scott and Dr. Eric Westman teamed up to create online cooking classes for Adapt Your Life Academy.

Dr. Eric Westman
Eric C. Westman, MD, MHS is an associate professor of Medicine at Duke University. He is Board Certified in Obesity Medicine and Internal Medicine and founded the Duke Keto Medicine Clinic in 2006 after eight years of clinical research regarding low-carbohydrate ketogenic diets. He is past-president and master fellow of the Obesity Medicine Association and fellow of The Obesity Society. He is an editor of the textbook Obesity: Evaluation & Treatment Essentials and author of the New York Times bestseller The New Atkins for a New You, Cholesterol Clarity, and Keto Clarity. He is co-founder of Adapt Your Life, an education and product company based on low carbohydrate concepts.