The 30-Day Ketogenic Cleanse: Reset Your Metabolism with 160 Tasty Whole-Food Recipes & a Guided Meal Plan
Spiral-Bound | December 27, 2016
Maria Emmerich
Rebinding by Spiralverse™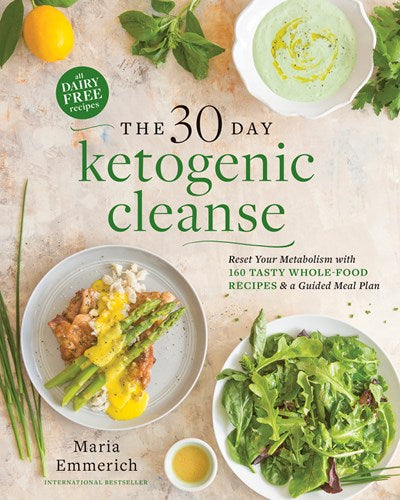 The 30-Day Ketogenic Cleanse is a guidebook for healing the body from the inside out.

Most people attempting a keto diet do it completely wrong. Maria Emmerich, on the other hand, bases this cleanse on a true, well-formulated ketogenic diet, helping readers reset their metabolism, regain health, lose weight, and tap into increased energy levels.

This book includes:
•A detailed explanation of how sugar causes inflammation and leads to disease
•30-day meal plans to kick-start ketosis, with corresponding shopping lists
•30-day Whole30-compliant meal plans, with corresponding shopping lists
•A wide variety of amazing recipes, with suggestions for combining those recipes into delicious and satisfying ketogenic meals
•Easily accessible lists of approved keto foods and foods that hold people back from ketosis
•Tips on how to eat to balance hormones, sleep better, feel better, and lose weight while following a ketogenic diet
•Guidance for maintaining ketosis after a successful 30-day cleanse
•Recommendations for supplements to help heal from poor eating habits
•A bonus slow cooker chapter to help make life easier!
Maria Emmerich is a wellness expert in nutrition and exercise physiology and the founder of keto-adapted.com. Maria's success stems from her passion for helping others reach and sustain optimal health through programs and education that works on a personalized level. Maria has been asked to speak around the world about the ketogenic lifestyle and works with celebrities such as Halle Berry.

After struggling with her weight throughout her childhood, Maria decided to study health and wellness so she could help others who are discouraged by their appearance and do not feel their best mentally. She understands the connection between food and how it makes us all feel on the inside and out. Her specialty is brain chemical neurotransmitters and how they are affected by the foods we eat. She is the author more than 16 cookbooks and three nutritional guidebooks, including global bestseller Keto Comfort Foods and Keto-Adapted. Maria's blog, mariamindbodyhealth.com, includes a unique combination of innovative recipes using alternative ingredients to less-healthy options and easy-to-understand explanations of why these options are better for our health.