Breathe Like a Bear: 30 Mindful Moments for Kids to Feel Calm and Focused Anytime, Anywhere
Spiral-Bound | December 5, 2017
Kira Willey, Anni Betts (Illustrated by)
Rebinding by Spiralverse™
★★★★☆+ from 501 to 1,000 ratings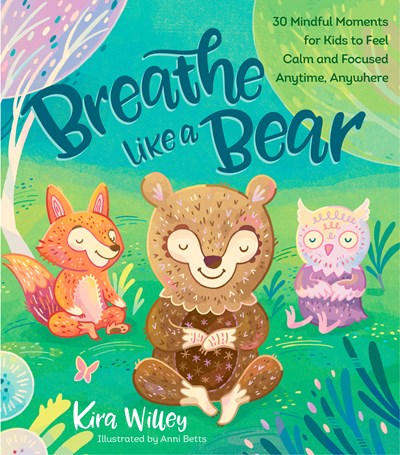 Get your kids ready to conquer back to school anxiety with this collection of 30 mindfulness meditations and exercises to help kids feel calm, focused, and energized wherever they are.

Breathe Like a Bear is a beautifully illustrated collection of mindfulness exercises designed to teach kids techniques for managing their bodies, breath, and emotions. Best of all, these 30 simple, short breathing practices and movements can be performed anytime, anywhere: in the car to the grocery store, during heavy homework nights at home, or even at a child's desk at school.

Based on Kira Willey's Parents' Choice GOLD Award-winning CD, Mindful Moments for Kids, this one-of-a-kind book is sure to help kids find calm, gain focus, and feel energized during the day, and encourage families to establish a fun and consistent mindfulness practice, whether at home or on the go.
"Breathe Like a Bear is a beautiful guide to mindfulness. Parents, teachers, caregivers— and especially kids—will love the different ways to explore mindfulness and breath through animals and story in Breathe Like a Bear. Both lyrical and practical, this much-needed book will help children navigate the world around them!"
—Susan Verde, author of I Am Yoga and I Am Peace

"I love this book! Breathe Like a Bear is filled with playful and imaginative ideas for helping kids connect to themselves, whether it's their own strong energy or inner calm. Each moment that Kira has so elegantly sculpted and described conjures up delicious, beautiful, or whimsical, child-friendly scenarios. It's exactly this fun and accessible style that will make kids want to try every one of these little gems that provides simple tools for big change."
—Laurie Berkner, award-winning and bestselling children's musical artist

Author Willey brings years of experience in children's music and movement to her debut.The book is divided into five sections ("Be Calm," "Focus," "Imagine," "Make Some Energy," and "Relax"), which are further sectioned into double-page-spread subtopics. Each spread includes one or two breath-centered exercises to encourage a habit and practice of mindfulness. Most, but not all, include references to wild animals and nature that are sure to appeal to young children. They are encouraged to use their imaginations as launch pads for being present: "Imagine you're a cloud in the sky" and "Imagine you're a sleepy lion, just waking up in the morning" are typical. The exercises are brief and excellent for short attention spans, though some offer opportunities for extension through pacing. The instructional text is simple enough for fluent readers to use in self-guided practice, though each exercise likely works best as a read-aloud. Betts accompanies each exercise with charming illustrations featuring foxes, elephants, fanciful clouds, and, of course, bears. This friendly book is sure to appeal to educators and caregivers looking for an accessible and kid-friendly introduction to mindfulness. A breath of fresh air. - Kirkus Reviews

Breathe Like a Bear teaches kids how to flex their mindfulness muscles and be calm, focused, imaginative,energized and relaxed. Kira Willey offers up fun activities that are sure tocaptivate young audiences and start them developing positive energy-producinghabits for their physical and mental well-being. And as Michelle KelseyMitchell points out in the foreword, "Children who practice mindfulnessare better able to self-regulate, have improved social skills... anddemonstrate higher self-esteem." Accentuating the engaging exercises aredelightful illustrations of animals and nature portrayed in strikingly boldcolors. This enjoyable, interactive book is a sneaky way to promote a healthyapproach to life with the small people you value most.
–Shelf Awareness
Kira Willey, author of Breathe Like a Bear and the Mindfulness Moments for Kids series, is a children's music artist, kids' yoga and mindfulness expert, and creator of Rockin' Yoga school programs. She has released five albums of kids' yoga and mindfulness songs; her work has won Parents' Choice Gold, four Independent Music Awards, and the ASCAP Foundation Children's Songwriting Award. Her hits include "Colors," which was featured in a worldwide Dell ad campaign. Kira created and hosts several yoga-for-kids programs which air on PBS TV affiliates nationwide; and her TEDx talk, "Bite-Sized Mindfulness," can be viewed online. Learn more at kirawilley.com!

Anni Betts is a professional illustrator who creates vibrant, cheerful drawings for books, magazines, advertisements, greeting cards, and more. Originally from Illinois, she now lives in Durham, England, with her archaeologist husband, Kamal, new son, Emmett, and adorable dog, Logan. When not illustrating, she can be found exploring the historic sights and natural beauty of the United Kingdom and Europe, baking sweets, going for long walks, and sewing colorful clothes to wear. Visit her online at annibetts.com.