The MindBody Code: How to Change the Beliefs that Limit Your Health, Longevity, and Success
Spiral-Bound | August 1, 2016
Mario Martinez, PsyD, Christiane Northrup (Foreword by)
Rebinding by Spiralverse™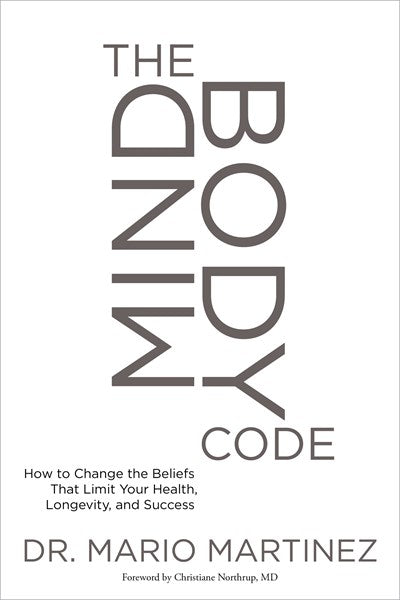 Why do so many popular methods of personal transformation fail despite our efforts and intentions? Because they don't address the mindbody code—your body's "operating instructions" for interpreting your world, creating your sense of self, and defining what's really possible for you. The MindBody Code offers practical training in Dr. Mario Martinez's "biocognitive" approach to overcoming obstacles and living an empowered life.
With The MindBody Code, Dr. Mario Martinez shares the rewards of an investigation that has spanned generations and cultures to reveal the most effective methods for initiating deep and lasting change. Through fascinating case studies and practical training in the new science of biocognition, Dr. Martinez illuminates the pathways to healing the archetypal wounds of shame, abandonment, and betrayal; how to break through the ceilings of abundance that limit prosperity and create the "subcultures of wellness" that will help you reach your full potential; how to transform "aging consciousness" to continually increase your value and competence as you grow older; and much more.

"The MindBody Code has impacted my own work and life, and I know that it can also profoundly impact yours. You don't need to stay caged in a life of culturally approved 'known misery' that keeps you from experiencing a lifetime of wonder, health, and joy. You have within you the power to reinvent yourself at any age or stage—no matter what your circumstances. The roadmap is right here in these pages." —From the foreword by Christiane Northrup, MD, author of the New York Times bestsellers The Wisdom of Menopause and Women's Bodies, Women's Wisdom

"This book is that of a masterful mind-body guide, whose breadth and depth are truly admirable. Mario Martinez is a great teacher who knows how to translate complex subject matter into poetic, inviting language. The result for the reader is a gentle unfolding of self-discovery that is life-changing." —Larry Dossey, MD, author of One Mind: How Our Individual Mind Is Part of a Greater Consciousness and Why It Matters

"Martinez's book gives new meaning to the saying, 'Sticks and stones can break your bones, but words can never hurt you.' In fact, he shows us that words can cause illness. By putting his wisdom into action, we can transform the unhealthy, culturally-based language we mindlessly learned into a mindful, biosymbolic language to bring about health and vitality. Others have written about the power of the mind to create health. The MindBody Code successfully goes one step further by incorporating the profound effect culture has on our well-being. If you're interested in becoming or remaining healthy, read this book." —Ellen Langer, PhD, Harvard psychology professor and author of Counterclockwise: Mindful Health and the Power of Possibility

Dr. Mario Martinez is a US clinical neuropsychologist who lectures worldwide on how cultural beliefs affect health and longevity. He is the founder of biocognitive science, a new paradigm that investigates the causes of health and the learning of illnesses. More importantly, biocognition identifies complex discoveries of how our cultural beliefs affect our immune, nervous and endocrine systems, and translates them to practical applications. Dr. Martinez has investigated cases of alleged stigmata for the Catholic Church, the BBC and National Geographic. He lives in Montevideo, Uruguay.