A Time to Die: Monks on the Threshold of Eternal Life
Spiral-Bound | June 13, 2019
Nicolas Diat, Robert Sarah
Rebinding by Spiralverse™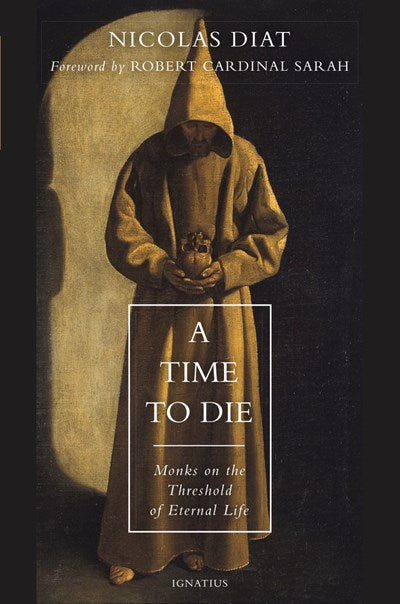 Behind monastery walls, men of God spend their lives preparing for the passage of death. Best-selling French author Nicolas Diat set out to find what their deaths can reveal about the greatest mystery faced by everyone—the end of life.
How to die? How to respond to our fear of death? To answer these and other questions, Diat travelled to eight European monasteries including Solesmes Abbey and the Grande Chartreuse. Through extraordinary interviews with monks, he learned that their death experiences are varied and unique, with elements of peace, pain, humility, sorrow, and joy.
These monks have the same fears, torments, and sorrows as everyone else, Diat discovered. What is exemplary about them is their humility and simplicity. When death approaches, and its hand reveals its strength, they are like happy and naïve children who wait with impatience to open a gift. They have complete confidence in the mercy of God.
"In reading A Time to Die, we better understand that death is the most important act of earthly existence. All life is made to explode, to go farther, to merge with Life, with God. I am infinitely thankful to Nicolas Diat for having brought us for a moment before the mystery of death, and I recommend to all the reading of this wonderful book."
— Cardinal Robert Sarah, from the Foreword
"Diat reminds us that death should not be something feared, but welcomed and embraced with confident serenity."
— Deacon Harold Burke-Sivers, Author, Behold the Man: A Catholic Vision of Male Spirituality
"This book moved me very deeply. I felt I was sitting in on some very intimate moments in the lives of monks on the brink of death, meeting the terrifying mystery of death through the holiness of men whose lives are totally focused on the reality of a love that is stronger than death."
— Mother Dolores Hart, O.S.B., Author, The Ear of the Heart
"A must-read to help you get to heaven! A Time to Die shares many inspiring insights from holy monks on how to die in God's presence. Powerful spiritual reading for all!"
— Terry Barber, Author, How to Share Your Faith with Anyone
"These true stories help us realize that death is an intensely personal moment. Enjoy the great gift of spiritually 'being at the bedside' of these holy men facing death, and prayerfully allow the Holy Spirit to reach into your own heart with a renewed sense of hope in the glory that is to come!"
— Mother M. Assumpta Long, O.P., Prioress General, Dominican Sisters of Mary, Mother of the Eucharist
"This book offers real, honest, and emotional insights on the reality and hardships of preparing for death. Like other best-selling books by Nicholas Diat, A Time to Die is a beautifully written work that you are going to love!"
— Fr. Donald Calloway, M.I.C., Author, 10 Wonders of the Rosary
"This is a work written with singular beauty that is not lost in translation. The serenity on each page is an elegant rebuke to a Culture of Death, whose chief irony is that it does not know how to die well."
— Fr. George Rutler, Author, Calm in Chaos
Nicolas Diat is a French journalist and author. His latest book is A Time to Die: Monks on the Threshold of Eternal Life.
Robert Cardinal Sarah was born in Guinea, West Africa. Made an Archbishop by Pope John Paul II and a Cardinal by Pope Benedict XVI, he was named the Prefect of the Congregation for Divine Worship and the Discipline of the Sacraments by Pope Francis in 2014. He is the author of God or Nothing.