Free-Motion Meandering: A Beginners Guide to Machine Quilting
Spiral-Bound | November 1, 2017
Angela Walters
Rebinding by Spiralverse™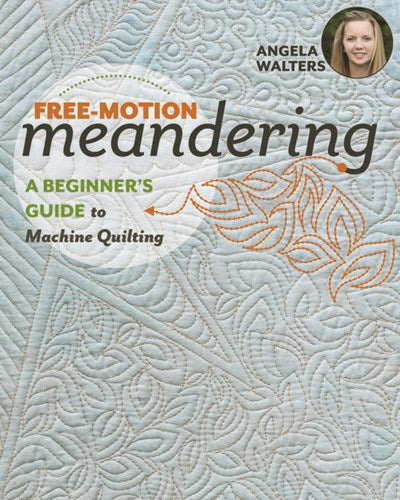 Turn the corner to free-motion success with a meandering makeover! Best-selling author Angela Walters shows you that free-motion machine quilting doesn't have to be scary - with a couple designs in your pocket, you can finish almost any quilt on your home machine and enjoy the process. Practice 8 meandering stitches for beginners plus unique modifications for each, with step-by-step visuals and quilted samples. Improve your free-motion quilting, disguise mistakes, and transition between designs with ease.
As Angela says in her introduction, 'A meander is a quilting design that is repeated to fill in an area. It's one of the most versatile designs to learn. A couple of meandering designs in your arsenal are all you need to quilt almost any quilt. After a good introduction to the basics, Angela launches into a step-by-step explanation of the basic meander. Her instructions are clear, well illustrated, and very encouraging. At the end of each section she includes a question and answer section with helpful hints to improve your quilting. Angela then moves on to somewhat more advanced designs such as loops, the swirl, paisley, leafy and feather meanders. For each design, explanations are given for how to fill an area or use meanders in a border or combine them with different designs. She finishes with a section on 'Improv Quilting' where you get to practice combining all the designs to create a uniquely interesting look to your quilts. As with any technique, practice makes for a gradual improvement every time you sit and give it a go. -The Canadian Quilter, Winter 2017
Angela Walters is a machine quilter and author who loves to teach others to use quilting to bring out the best in their quilt tops. Her work has been published in numerous magazines and books. She lives in Liberty, MO.