No Gluten, No Problem Pizza: 75+ Recipes for Every Craving—from Thin Crust to Deep Dish, New York to Naples
Spiral-Bound | November 5, 2019
Kelli Bronski, Peter Bronski
Rebinding by Spiralverse™
★★★★☆+ from 31 to 100 ratings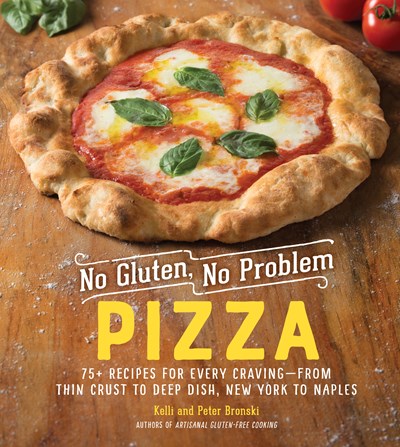 From deep dish to thin crust, this is the definitive gluten-free guide to mouthwatering pizzeria-quality pizzas, flatbreads, calzones, and more!
Learn how to make the best gluten-free pizza you've ever had in this definitive guide—from the authors of the forthcoming Kids Cook Gluten-Free
For Kelli and Peter Bronski, pizza is a passion. So when Peter was diagnosed with celiac disease, they set out on a mission—to master the art of gluten-free pizza-making themselves. With insights from the best
pizzaioli
from Naples to New York City and beyond—and more than a decade of gluten-free recipe experience—they tested over one thousand pies in pursuit of the perfect gluten-free pizza. Now, they deliver the spectacular result:
Seventy-five recipes with all of the authentic flavor and texture of traditional pizza, but none of the gluten
Every step of the process explained, from making the perfect flour blends to launching your pizza into the oven—and everything in between
Fifteen (!) kinds of dough covering all the major pizza styles, including puffy Neapolitan, traditional New York, crispy Roman, buttery Chicago deep dish, and thick-crust Detroit and Sicilian pies
You'll find:
Classic and creative flavor combinations, like Rustic Pepperoni, Thai Chicken, and Wild Mushroom
Grain-free and nutrient-rich pizzas, like Pesto Farinata, Cauliflower and Zucchini Crusts, and Teff and Buckwheat Doughs
Pizzas for every meal, like Chocolate-Hazelnut Dessert Pizza, Lox and Cream Cheese Breakfast Pizza
Fried and filled pizzas, focaccia, and flatbreads, like Montanara Pizza, Calzones, Rosemary Focaccia, and Fig and Prosciutto Flatbread
Everyone deserves great pizza—and with this book, you can finally have it!
"Smart and accessible . . . pizza lovers seeking gluten-free satisfaction for their cravings will find plenty of delicious choices to chew on."—Publishers Weekly

"One of the best options for gluten-free home chefs on pizza night. . . . mouth-watering. . . . Recommended for anyone gluten-free as well as pizza lovers who will enjoy experimenting with the dozen or so flours used."—Library Journal

"The Bronskis are always meticulous about making sure their recipes are a treat to eat—even for those without any dietary restrictions—and this book is no exception. Traveling throughout Italy and eliciting trade secrets from the world's best pizzaioli have resulted in a truly spectacular book full of can't-miss recipes. Using the special techniques highlighted in this book and armed with just a few commonly found gluten-free ingredients, any home baker can eat superb pizza."—Kyra Bussanich, author of Sweet Cravings: 50 Seductive Desserts for a Gluten-Free Lifestyle, owner of celiac-safe bakery Kyra's Bake Shop, and four-time winner of Food Network's Cupcake Wars

"Kelli and Peter deliver on No Gluten, No Problem Pizza with their inventive, foolproof pizza-making skills. If you call yourself a pizza lover—gluten-free or not—this cookbook needs to be in your kitchen. Do you see those unbelievably gluten-free pizza crusts? Just wait till you bite into your first slice. It'll take you back to your favorite pizza joint!"—Silvana Nardone, founder of Silvana's Kitchen and author of Cooking for Isaiah: Gluten-Free Dairy-Free Recipes for Easy, Delicious Meals

"I love when people visit our pizzeria and ask us, 'Are you sure this is gluten-free?' Now, home pizza makers—not to mention their family and friends—will be asking the same thing, thanks to the impressive collection of recipes in No Gluten, No Problem Pizza."—Giovanni Cesarano, pizzaiolo at King Umberto, 2018 Caputo Cup Champion (gluten-free division), and member of the World Pizza Champions' US team

"The Bronskis have made a beautiful cookbook that explains very well how to make gluten-free pizza. I recommend everyone buy at least one copy!"—Federico De Silvestri, pizzaiolo at Pizzeria Focacceria Quattrocento, two-time winner of the World Pizza Championship (gluten-free division), and the 2019 International Pizza Expo's Pizza Maker of the Year

"From my long experience with gluten-free pizza, I can confirm that the recipes presented in the book are perfect, precise, and simple to reproduce. In particular, for the Neapolitan pizza, the book follows the guidelines of true Neapolitan pizza, including a perfectly workable dough. Overall, the book is an excellent guide for both the beginner and the more experienced pizza chef."—Antonio Langone, Associazione Verace Pizza Napoletana (AVPN) Pizzaiolo Verace, 2018 International Pizza Expo winner (gluten-free division) and 2012 Pizzaiuolo Championship winner (gluten-free division)

Peter and Kelli Bronski are the husband-and-wife cofounders of the acclaimed blog No Gluten, No Problem and coauthors of the popular cookbooks Artisanal Gluten-Free Cooking, Gluten-Free Family Favorites, and Artisanal Gluten-Free Cupcakes. They've been developing recipes in their gluten-free kitchen since Peter's celiac disease diagnosis in 2007; they have a particular passion for pizza, which their family makes every Sunday night. Kelli is a graduate of Cornell University's prestigious School of Hotel Administration and a lifelong baker and cook. Peter is an award-winning writer and marketer, endurance athlete, and also the coauthor of The Gluten-Free Edge. They live in Colorado with their three children. For more information, please visit them online: nogluten-noproblem.com.