The Memory of Babel: Book Three of The Mirror Visitor Quartet
Spiral-Bound | June 8, 2021
Christelle Dabos, Hildegarde Serle (Translated by)
Rebinding by Spiralverse™
★★★★☆+ from 10,001 to 50,000 ratings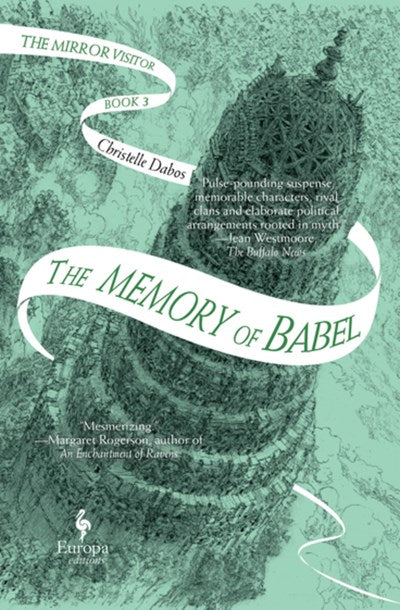 "The Mirror Visitor stands on the same shelf as Harry Potter."—Elle Magazine
In this gripping third volume of the Christelle Dabos's best-selling saga, Ophelia, the mirror-traveling heroine, finds herself on the ark of Babel guarding a secret that may provide a key both to the past and the future.
After two years and seven months biding her time on Anima, her home ark, it is finally time to act, to put what she has discovered in the Book of Farouk to use. Under an assumed identity she travels to Babel, a cosmopolitan and thoroughly modern ark that is the jewel of the universe.

Will Ophelia's talent as a reader suffice to avoid being lured into a deadly trap by her ever more fearful adversaries? Will she ever see Thorn, her betrothed, again?
"Ophelia is...the tiny-voiced powerhouse you can't take your eyes off."—The New York Times
Praise for Christelle Dabos and the Mirror Visitor Quartet
"As mesmerizing as a waking dream."—Margaret Rogerson, New York Times Bestselling author of An Enchantment of Ravens
"A strange, stalwart protagonist, court intrigue and a lushly visual, imaginative setting are only part of what makes this an excellent winter read."—The Toronto Star
★ "Readers will be dazzled!"—Publishers Weekly (Starred Review)
"A hallucinatory marriage of Pride and Prejudice and Game of Thrones."—Matthew Sketon, author of the Endymion Spring books
"Imagine the poisonous politics of Versailles in a glittering, steampunk world of quill pens, airships, masks, illusions and murderous courtiers."—The Wall Street Journal
"Pulse-pounding suspense, memorable characters, rival clans and elaborate political arrangements rooted in myth."—Jean Westmoore, The Buffalo News
"Spectacular settings, exquisitely rendered characters."—Publishers Weekly
Praise for The Memory of Babel
"A complex, imaginative, somewhat steampunk version of the Baudelaire orphans' adventures, as written for teens and adults."—Booklist
"This is a first-class fantasy series, enjoyable for the complexity and richness of the landscape and the unique nature of the characters. Imaginative, filled with suspense and with a satisfying sense of place, it is not to be missed. Highly recommended."—Eric Boss, MPIBA
"The Memory of Babel is rich with memorable inventions: spells, transfigurations, prophecies, metamorphoses, dreams, arks, Citaceleste, ciphered manuscripts, enchanted mirrors. Ophelia is the Alice of the 21st century."—Il borghese
"The world building of this series is unparalleled. It's both incredibly ominous and brimming with endless wonder. The way the reader is allowed to feel moments of ah ha! While the characters you've been following still have tricks up their sleeve you didn't see from an ark away—is genius. I love this series with everything within me."—Claire Phelan, Third Place Books
"The writing is phenomenal! The characters are complex, and their emotions are felt with every word. I love this series deeply and wait with bated breath to read the next addition to the story."—Anna Rose Carleton, The Well-Read Moose
"This book is an amazing continuation to a series that is nothing like any YA book series on the shelves today. Ophelia is the type of character I love to read about: great at some things, terrible at others, brave at times, cowardly at times, brilliant at times, and frustrating at other times. I could read about her all day. And her relationship with Thorn is just so real it's beautiful."—Michelle Guider, Barnes & Noble
"The third book in the Mirror Visitor series is wonderful. We see Ophelia struggle with her new life and the secrets that she has discovered. Plus there is still danger from unknown persons. In this book we get to see Ophelia and Thorns relationship develop and it was painful and wonderful to read. I can't wait to read the next book."—Blair Bayless, Copperfield's Books
"Thus far with this series, I've tended to care more about the world-building and characters than any of the mysteries presented, but with the particular mystery in this installment I've got to say that Dabos did a masterful job. It is so satisfying, and such an enjoyable ride."—Melissa O, Lynbrook Public Library
Christelle Dabos was born on the Côte d'Azur in 1980 and grew up in a home filled with classical music and historical games. She now lives in Belgium. A Winter's Promise, her debut novel, won the Gallimard Jeunesse-RTL-Télérama First Novel Competition in France, and was named a Best Book of the Year by critics and publications in the US, including Entertainment Weekly, Bustle, Publishers Weekly, and Chicago Review of Books. A Winter's Promise was also named the #1 Sci-Fi/Fantasy title of the year by the editors of the Amazon Book Review.