The Pediatrician's Guide to Feeding Babies and Toddlers: Practical Answers To Your Questions on Nutrition, Starting Solids, Allergies, Picky Eating, and More (For Parents, By Parents)
Spiral-Bound | April 5, 2016
Anthony Porto, M.D., Dina DiMaggio, M.D.
Rebinding by Spiralverse™
★★★★☆+ from 101 to 500 ratings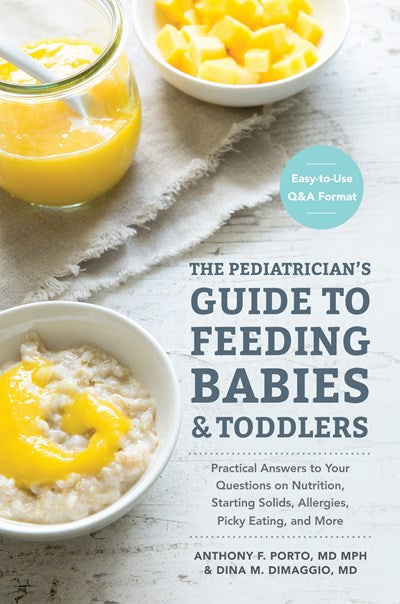 A comprehensive manual for feeding babies and toddlers during the crucial first years of life, written by a team of medical experts who are also parents.

All Your Questions about Feeding, Answered.

The choices of when, how, and what to feed your baby can be overwhelming. With The Pediatrician's Guide to Feeding Babies and Toddlers, you have the expertise of a team of pediatric medical and nutritional experts—who also happen to be parents—in a comprehensive manual that takes the guesswork out of feeding. This first-of-its-kind guide provides practical, easy-to-follow advice to help you navigate the nutrition issues, medical conditions, and parenting concerns that accompany feeding. With recipes, parenting stories, and recommendations based on the latest pediatric guidelines, this book will allow you to approach mealtime with confidence so you can spend more time enjoying your new family.
"Pediatricians Porto and DiMaggio offer a systematically organized, practical, and up-to-date guide to baby feeding from birth until toddlerhood. Their work will leave parents feeling informed but not overwhelmed. [...] Parents will find the chapters useful to read through as their children reach each stage, and well enough organized to use as a reference when particular concerns come up."
—Publishers Weekly

"Dina and Anthony's book is a goldmine, chock-full of up-to-date information and clear answers to virtually any feeding question a mom or dad could have."
—Jenna Helwig, Food Editor, Parents magazine, and author of Real Baby Food

"The Pediatrician's Guide To Feeding Babies and Toddlers is one of the best and most complete manuals for parents and Pediatricians alike. It is written so that a non-medical reader can clearly understand it and yet the contents are so complete that it should be mandatory reading for every Pediatric Resident. What I loved best about the book were the authors' personal anecdotes and the fun recipes sure to please every age group. I highly recommend this book and will now have a go to book to recommend to my patients."
—Amy R DeFelice, MD, Pediatric Gastroenterologist, Columbia University, Director, Nutrition Support Services Associate Professor of Pediatrics
Dina DiMaggio is a board certified pediatrician working at Pediatric Associates of NYC and NYU Langone Medical Center. She completed her medical training at Albert Einstein College of Medicine, Children's Hospital at Montefiore, and Memorial Sloan Kettering Cancer Center. She has received numerous research awards, Patient's Choice awards, compassionate doctor recognition, and was featured in the New York Times Magazine as a Super Doctors in 2014 and 2015 New York Rising Star. She is dedicated to educating parents on baby and toddler nutrition and gives talks to parents throughout New York.

Anthony F. Porto is a board certified pediatric gastroenterologist, an Assistant Professor of Pediatrics, and Associate Clinical Chief at Yale University. He completed his medical training at Tufts University, Children's Hospital at Montefiore, and Columbia University. He has received numerous awards including the Norman J. Seigel Award at Yale University for leadership and outstanding clinical care and Physician of the Year at Columbia University. He has been named Castle Connolly Top Doctors since 2012. Anthony is interested in nutrition, especially in the care of children with difficulty gaining weight, feeding issues, and celiac disease.