Small-Scale Grain Raising: An Organic Guide to Growing, Processing, and Using Nutritious Whole Grains for Home Gardeners and Local Farmers, 2nd Edition (2nd Edition, Revised)
Spiral-Bound |
Gene Logsdon, Jerry O'Brien (Illustrated by)
Rebinding by Spiralverse™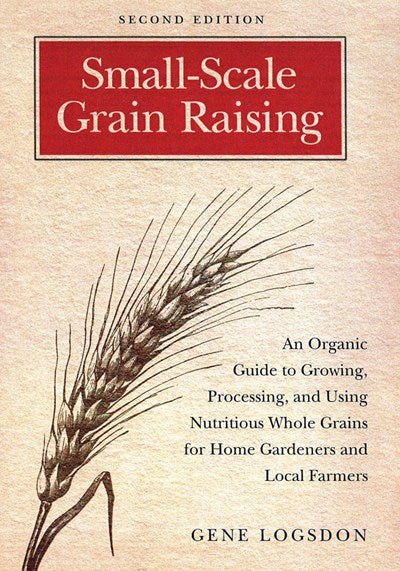 First published in 1977, this book—from one of America's most famous and prolific agricultural writers—became an almost instant classic among homestead gardeners and small farmers. Now fully updated and available once more, Small-Scale Grain Raising offers a entirely new generation of readers the best introduction to a wide range of both common and lesser-known specialty grains and related field crops, from corn, wheat, and rye to buckwheat, millet, rice, spelt, flax, and even beans and sunflowers.
More and more Americans are seeking out locally grown foods, yet one of the real stumbling blocks to their efforts has been finding local sources for grains, which are grown mainly on large, distant corporate farms. At the same time, commodity prices for grains—and the products made from them—have skyrocketed due to rising energy costs and increased demand. In this book, Gene Logsdon proves that anyone who has access to a large garden or small farm can (and should) think outside the agribusiness box and learn to grow healthy whole grains or beans—the base of our culinary food pyramid—alongside their fruits and vegetables.
Starting from the simple but revolutionary concept of the garden "pancake patch," Logsdon opens up our eyes to a whole world of plants that we wrongly assume only the agricultural "big boys" can grow. He succinctly covers all the basics, from planting and dealing with pests, weeds, and diseases to harvesting, processing, storing, and using whole grains. There are even a few recipes sprinkled throughout, along with more than a little wit and wisdom.
Never has there been a better time, or a more receptive audience, for this book. Localvores, serious home gardeners, CSA farmers, and whole-foods advocates—in fact, all people who value fresh, high-quality foods—will find a field full of information and ideas in this once and future classic.
The Ethicurean-
In Small-Scale Grain Raising, Logsdon lays out clearly just how easy it can be to grow grains for your family and your livestock, from his beloved "pancake patch" up to acre-sized plots. Interspersed with good-humored vintage anecdotes and his usual Contrary Farmer commentary, this primer elevates the status of grain-growing on farms of all sizes (from the backyard on up) to a happy essential. As he states repeatedly, there's nothing so delicious -- or so economical -- as home-baked goods made with fresh grains you grew and milled yourself. And when those same home-grown grains can also feed your animals and build soil fertility… well, what's stopping you?Logsdon's book covers all of the well-known grains and several of the lesser ones: barley, buckwheat, corn, millet, oats, rice, spelt, sorghum, triticale, wheat, and others. He also devotes a chapter to soybeans and dried beans, despite their classification as legumes, because they partner so well with grains both in growing and in eating. For at least the major grains he discusses varieties, yields, nutritional value, and uses (both for human and animal consumption as well as other farm uses). He describes how to prepare the soil, how to plant the grain seeds (including optimal space requirements), what diseases and pests to watch for and how to deal with them, how to harvest and dry the grains, how to store them, and, finally, how to turn those seeds into food for your family.Drawing on his personal experience growing almost all of the major grains, Logsdon describes "how we do it" even when it contrasts with conventional wisdom. He touts the value of open-pollinated seed, despite advances in hybrids, because of their superior taste and the satisfaction of not being beholden to agribusiness. He also demonstrates that old hand tools and techniques can sometimes be the most efficient when growing on a small scale. For example, though corn may be harvested by machine, he outlines how to bundle corn stalks into shocks for easy, inexpensive drying and storage (and aesthetic value). He claims to keep a basket full of old socks to slip over ripening ears of corn to prevent wild animals from dining on his crops. (I'd like to see that!) And for his money, the best weed control -- the one to which pests never develop resistance -- is the hoe.
Over the course of his long life and career as a writer, farmer, and journalist, Gene Logsdon published more than two dozen books, both practical and philosophical, on all aspects of rural life and affairs. His nonfiction works include Gene Everlasting, A Sanctuary of Trees, and Living at Nature's Pace. He wrote a popular blog, The Contrary Farmer, as well as an award-winning column for the Carey, Ohio, Progressor Times. Gene was also a contributor to Farming Magazine and The Draft Horse Journal. He lived and farmed in Upper Sandusky, Ohio, where he died in 2016, a few weeks after finishing his final book, Letter to a Young Farmer.