Worthy of Her Trust: What You Need to Do to Rebuild Sexual Integrity and Win Her Back
Spiral-Bound | August 19, 2014
Stephen Arterburn, Jason B. Martinkus
Rebinding by Spiralverse™
★★★★☆+ from 101 to 500 ratings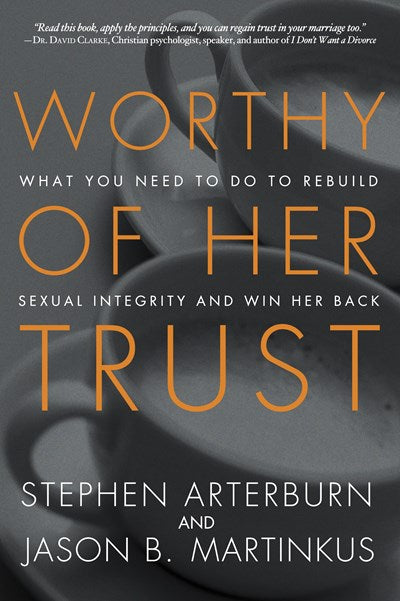 You Can Win Her Back

Few challenges in life are as difficult as regaining a wife's trust—and few are as ultimately worthwhile. Trust can be rebuilt in your marriage! With patient, loving, self-sacrificing effort, it's possible that one day your wife will risk her heart with you again. And she may even have more respect and love for you than before.

In Worthy of Her Trust, Jason Martinkus relates how he repaired his own marriage after revelations of sexual addiction. Along with Stephen Arterburn, Jason offers exercises and tools rooted in counseling principles to help your marriage begin again. This comprehensive guide discusses:

· How to be truly and effectively transparent
· Combating the "he must not love me" myth and other untruths
· What to do about the Internet, office temptations, and travel
· Encouragement for wives who wonder if trust can ever be restored
· The "five-minute phone call" and other daily trust-building strategies
· What meaningful forgiveness and restitution look like
· The Amends Matrix—a concrete exercise to admit past wrongs and cast a vision for a faithful future

Including insights from Jason's wife, Shelley, Worthy of Her Trust guides you through the process of rebuilding your relationship so it is stronger than ever.
Praise for Worthy of Her Trust

"Can you rebuild marital trust after sexual sin? Yes, and Jason Martinkus and Stephen Arterburn will show you how. Jason and his wife, Shelley, take you on their deeply personal and spiritual journey from betrayal to trust. Read this book and apply the principles, and you, too, can regain trust in your marriage."
—Dr. David Clarke, Christian psychologist, speaker, and author of I Don't Want a Divorce

"This book opens the reader's eyes to the difficult truth and reality of what it takes to rebuild trust in a relationship devastated by sexual betrayal. My marriage would not have survived without God's grace and the wisdom and essential guidance found in Worthy of Her Trust. Any man committed to winning back his wife at all costs needs to read this book!"
—Curtis, Arizona

"No matter how tragic and seemingly irreparable your marriage may be, there is hope. My husband wanted to rebuild trust in a hopeless situation. He learned and continues to implement the amends matrix, and he has kept 242 days of the T-30 journal. We have not only experienced reconciliation, but we have been restored individually. For that I am eternally grateful! If you are both ready to let God redeem the past and help you build trust again, Worthy of Her Trust will show you how."
—Susan, Colorado

"Finally, for one of the darkest periods of any relationship, Jason has delivered a no-nonsense, inspired approach for rebuilding shattered trust. By sharing his compassion and insight, he has opened the door for true transformation and growth. This is a must-read book if moving forward is your goal."
—Dave, California

"Worthy of Her Trust is the go-to, step-by-step resource for professionals or anyone seeking guidance through the trust-building process. Martinkus presents a model of relationship intimacy—based on closeness and honesty—a connection that becomes both the context and motivation for the redemptive journey."
—Bob Sklar, LMFT

Stephen Arterburn is coauthor of the bestselling Every Man series, founder and chairman of New Life Clinics, host of the daily New Life Live! national radio program, creator of the Women of Faith Conferences, a licensed minister, and the author of more than one hundred books and editor of ten Bible projects. He lives in Laguna Beach, California.

Jason B. Martinkus worked in the corporate world for years before becoming a national speaker for the Every Man's Battle Workshops and president of Redemptive Living, a Denver-based counseling ministry dedicated to helping men with sexual integrity issues. He has a master's degree in counseling from Denver Seminary.