Agate Hunting Made Easy: How to Really Find Lake Superior Agates
Spiral-Bound |
Jim Magnuson, Carol Wood (Photographs by)
Rebinding by Spiralverse™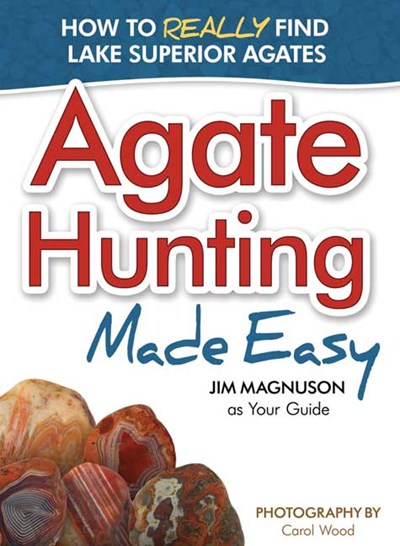 This book provides step-by-step instructions for finding and identifying Lake Superior Agates.
Learn HOW to hunt agates!
You've admired agates for their color and beauty—now learn how to find your own. Unlike other books, Agate Hunting Made Easy provides step-by-step instructions to help you turn those once-frustrating agate hunts into successful ones.
You'll have an experienced collector, Jim Magnuson, as your guide.
He will show you photographs of what rough agates really look like in the field.
His tips will help you recognize agate imposters that often fool inexperienced collectors.
He will teach you how to hunt in a variety of locations, from gravel pits to lakeshore.
Jim also provides a rating scale to help you estimate the value of your finds.
Rock hounding is more than a hobby for author Jim Magnuson, it's a serious and rewarding avocation that helps him connect with nature. He has been an avid hunter and student of various gems, minerals and fossils since his childhood, when he first began to hunt for stones in his native state of Illinois. In addition, Jim enjoys sharing his passion not only through showing and gifting some of his finds, but also through writing, another lifelong interest. Throughout Jim's career as an Information Technology professional, he has developed his technical writing skills while creating new processes that reduce complexity and improve efficiency. These same skills proved to be invaluable as he set out to create a modern-day guide for beginning agate hunters. Jim is also a member of the Minnesota Mineral Club and enjoys attending other rock and mineral clubs as a way to further his learning and branch out into other types of agates, gemstones and geology. Carol Wood took up professional photography as a means of satisfying a lifelong passion for creating and sharing things of beauty. She has a keen eye for seeing perspectives in things that on the surface appear to be mundane or quite simple. Given her training and natural instincts for perspective and complementary lighting that enhances visual clarity, Carol is able to produce high-definition photographic images that enhance but don't distract from the given subjects. These skills are essential in providing a guidebook that novice agate hunters can use as a just-in-time visual reference guide. In addition to Carol's photographic pursuits, she also enjoys outdoor activities with her friends and family, especially activities that have both a mental and physical component. As a result, she has become an avid rock hound in her own right and has gradually built a collection of beautiful agates that adorn her home in northern Illinois. Carol's personal interest in the hobby has helped her to walk in the shoes of the beginning rock hound and thereby envision and create a photographic learning experience.