Blighted: A Story of People, Politics, and an American Housing Miracle
Spiral-Bound | December 1, 2022
Margaret Stagmeier
Rebinding by Spiralverse™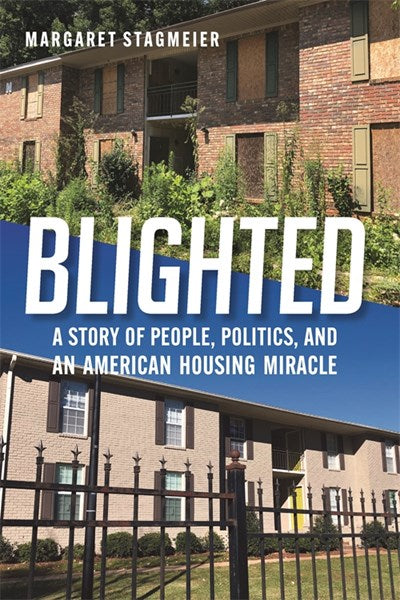 Blighted is a powerful narrative about the decades-long decay and remarkable two-year reinvention of Summerdale, an aging apartment community located in one of Atlanta's grittiest corridors. From burnt-out, mold-infested buildings to traumatized classrooms, Blighted unfolds in the voices of ruthless drug dealers, phantom tenants, fearless landlords, the working poor, educators, and visionary local leaders.

After purchasing the property from an absentee overseas owner, Marjy Stagmeier and her partners methodically tackled the crisis festering inside the gated 244-unit apartment property. Two years of relentless work later, Stagmeier reveals how the team that she led built community from chaos. Through on-the-ground, in-the-moment interviews with a wide range of stakeholders, Stagmeier demonstrates how marginalized housing perpetuates intergenerational poverty and the collapse of nearby public schools while showing the multifaceted challenges of improving dire living conditions.


Blighted offers a unique insider perspective of the political, human, and economic challenges of delivering equitable housing in a market fueled by inflationary prices, insatiable demand, and competing and often dubious agendas. Summerdale's success is a bright model of how affordable housing, education, healthcare, and social capital can interconnect to build vibrant, sustainable communities—affordable housing communities, nearby schools, and the community at large. From there, kids, families, working people, and neighborhoods can thrive.
Blighted is a gripping tale of the transformation of a low-income apartment community from a place of decay and disorder to one of stability and safety. With insights from tenants, educators, staff, and the landlord herself, the book details the long, arduous process undertaken by the innovative Margaret Stagmeier of gaining trust and rebuilding community, disrupting criminal activity, and helping Summerdale's renters manage the unbelievably difficult task of living in poverty. It is a book that should be read by academics, city planners and developers, and anyone interested in understanding societal barriers to accessing affordable housing. -Jessica Trounstine / author of Political Monopolies in American Cities and Segregation by Design
Dubbed "the compassionate capitalist" by the media, MARGARET "MARJY" STAGMEIER is an affordable housing solutionist and a champion of an affordable-housing education model successfully piloted within the nonprofit she founded, Atlanta-based Star-C Programs. Stagmeier has purchased, renovated, and managed more than 3,000 legacy apartment units for the past eight years as cofounder of Tristar, a nationally recognized real estate investment firm in Atlanta. Stagmeier led TriStar to develop its sustainable housing model that targets blighted and marginalized apartment communities near failing elementary schools. In addition to creating affordable, quality workforce housing, Stagmeier and TriStar's pioneering partnerships with educators, medical professionals, municipalities, nonprofits, and foundations are reducing tenant transiency and improving outcomes through free after-school programs and summer camps, access to affordable health care, and community gardening. A graduate of Georgia State University, she passed the Georgia CPA exam, is the former board chair of the Atlanta Community Food Bank, former vice president of the Atlanta Commercial Board of Realtors, and the author of Real Estate Asset Management: Executive Strategies for Profit Making. Stagmeier also is active in HouseAtl and other organizations dedicated to equitable housing. She lives in Atlanta with her husband, John. Her goal with Blighted!, Star-C, and, increasingly, with TriStar's work is to create an equitable housing-education movement, starting with and always improving upon the open-source model presented in this book.