You're Only Human: How Your Limits Reflect God's Design and Why That's Good News
Spiral-Bound |
Kelly M. Kapic
Rebinding by Spiralverse™
★★★★☆+ from 501 to 1,000 ratings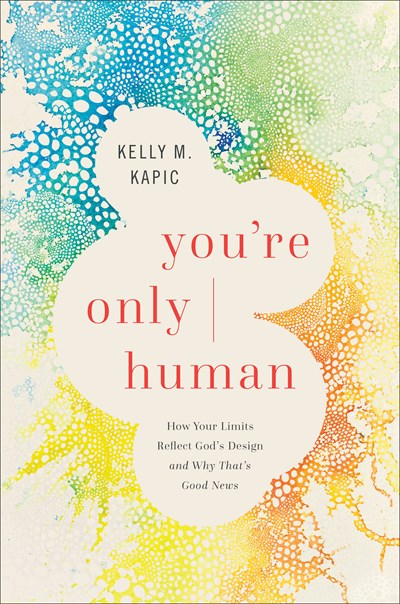 God doesn't need you to meet all the needs, know all the answers, or to be superhuman. As Christians, we too often confuse our creaturely limits with sin, sadly distorting most aspects of our lives. God just desires you to be a faithful human creature whose finitude fosters freedom, joy, growth, and community.

Christianity Today 2023 Book Award (Popular Theology)

2023 Georgia Author of the Year Finalist (Inspirational)

Southwestern Journal of Theology 2022 Book of the Year Award (Applied Theology/Ethics)

Work. Family. Church. Exercise. Sleep.

The list of demands on our time seems to be never ending. It can leave you feeling a little guilty--like you should always be doing one more thing.

Rather than sharing better time-management tips to squeeze more hours out of the day, Kelly Kapic takes a different approach in You're Only Human. He offers a better way to make peace with the fact that God didn't create us to do it all.

Kapic explores the theology behind seeing our human limitations as a gift rather than a deficiency. He lays out a path to holistic living with healthy self-understanding, life-giving relationships, and meaningful contributions to the world. He frees us from confusing our limitations with sin and instead invites us to rest in the joy and relief of knowing that God can use our limitations to foster freedom, joy, growth, and community.

Readers will emerge better equipped to cultivate a life that fosters gratitude, rest, and faithful service to God.
Kelly M. Kapic (PhD, King's College, University of London) is professor of theological studies at Covenant College in Lookout Mountain, Georgia, where he has taught for twenty years. He is an award-winning author of more than fifteen books, including Embodied Hope: A Theological Meditation on Pain and Suffering, winner of a Christianity Today Book Award. Kapic, a popular speaker, has been featured in Christianity Today and The Gospel Coalition, has worked on research teams funded by the John Templeton Foundation, and contributes to the Journal of Spiritual Formation and Soul Care and various other journals.