Twinkle, Twinkle, Little Star
Spiral-Bound | September 1, 2008
Iza Trapani, Iza Trapani (Illustrated by)
Rebinding by Spiralverse™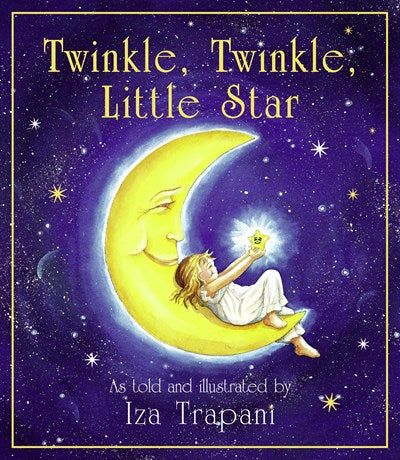 Board Book edition.

In this expanded version of the favorite nursery rhyme, Iza Trapani takes the earliest readers on a journey across the night sky. With playful verse and bright illustrations Iza Trapani introduces us to our irresistible young heroine as she wishes upon a mischievous, twinkling star. Granting her wish, the little star takes her on a dazzling and daring trip among swirling planets and beaming stars for one magical night. This new spin on the much-loved classic is a wonderful gift for even the littlest stargazers.

Over 1 million copies in print!
Always fascinated with children's books, author and illustrator Iza Trapani explores the pure simplicity of words and matches them with pictures of her own making. In
Twinkle, Twinkle, Little Star
and
I'm a Little Teapot
, detailed illustrations and charming characters tell stories that teach as well as delight.

Sue Morris, a teacher at the YMCA preschool in Canandaigua, New York, said, "The books will be very useful when we do our unit on stars, and another on imagination. But the many verses of the songs and lovely illustrations make them useful anytime during story time."

Keeping children busy and productive is the number-one goal in every preschool classroom. Twinkle, Twinkle and I'm a Little Teapot don't disapppoint. "The children react positively to things that they know," said Sue. "They also like to show off, so they sing along."

Like these two books, others offered by Charlesbridge add imaginative new verses to familiar classics that will have children singing, laughing and dreaming of great adventures.

Sue scored the books "the best" on eight different criteria, ranging from "educational value" to "likelihood we would use this product."

"I wouldn't change a thing about either book," concluded Sue. "The illustrations are so well done and the new verses are fun."
Iza Trapani is the best-selling author/illustrator of several children's books, including TWINKLE, TWINKLE, LITTLE STAR; I'M A LITTLE TEAPOT; THE ITSY BITSY SPIDER; and RUFUS AND FRIENDS: RHYME TIME. She lives in the Hudson Valley of New York.