A Child's Introduction to Art: The World's Greatest Paintings and Sculptures
Spiral-Bound | May 20, 2014
Heather Alexander, Meredith Hamilton
Rebinding by Spiralverse™
★★★★☆+ from 101 to 500 ratings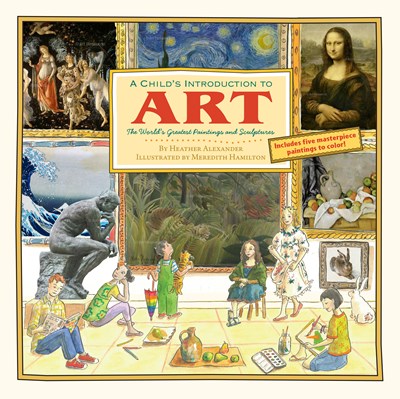 Explore the fascinating world of art and artists while trying do-it-yourself art projects in this colorful informative book.

Introduce kids ages 9 through 12 to the artworld's most famous painters, styles, and periods, all brought to life through full-color photographs of 40 masterpieces, as well as charming original illustrations.

This gorgeously illustrated reader highlights 40 painters and sculptors, including Leonardo da Vinci, Claude Monet, Diego Velasquez, Vincent van Gogh, Salvador Dali, Mary Cassatt, and Andy Warhol, providing information on their life, inspirations, influences, technique, and a full-color photo of one of their signature works of art. It also includes an overview of various styles and periods (Renaissance, Impressionism, Cubism, etc.), instruction on how to view and appreciate art, and information on the color wheel and other tools artists employ.

Fun art projects throughout, such as Can You Find It?, Q-tip pointillism, making a stained-glass window with tissue paper, and Spatter Paint like Pollock, allow kids to learn about painting techniques and explore their own artistic abilities. Also includes five masterpiece paintings to color.

Meredith Hamilton's witty illustrations add another dimension to the excellent text and photographs.
An all-too-brief introduction to art for the younger set.

Alexander and Hamilton have previously teamed up on titles in the wonderfully accessible and affordable A Child's Introduction to? series. This lively and kidcentric entry highlights 40 big names, mostly European and male artists (Michelangelo, Pierre-Auguste Monet, Diego Velázquez, Vincent Van Gogh, Pablo Picasso, Salvador Dalí, etc.), in a series of two-page spreads grouped thematically. The book's handsome design captivates with an inviting cover and appealing 10-inch square trim. Though very heavy on the classics of European painting and sculpture, Alexander's accessible and readable text effectively combines with Hamilton's fluid, ink-and-watercolor vignettes and well-chosen reproductions of "signature" works. Further enlivened by intriguing, informative sidebars on theory, movements and techniques, it also features many related hand-on projects. A few very small nods of recognition to Asian, ancient Greek and Roman, Egyptian, African and Native American art are offered?though at 96 pages one could hardly expect an inclusive, definitive resource. And it is light on diversity: Mary Cassatt is the only woman receiving a two-page spread, and Jacob Lawrence is the sole African-American painter. But then the only other Americans among this artistic Top 40 are Winslow Homer, Jackson Pollock and Andy Warhol.

Limited scope notwithstanding, this is terrific for browsing, thinking, dreaming and art-making. (index, timeline, removable coloring sheets) (Nonfiction. 9-14)
Heather Alexander has written numerous books for children and young adults including previous titles in this series, A Child's Introduction to the World, A Child's Introduction to Greek Mythology, and A Child's Introduction to Art. She is a former book editor living in Los Angeles, CA.


Meredith Hamilton has illustration the previous eight books in the Child's Intro series. Her other illustration work includes apps for children, cookbooks, and Steuben glass. She lives in Brooklyn, NY.