Rage: A Step-by-Step Guide to Overcoming Explosive Anger
Spiral-Bound |
Ronald Potter-Efron
Rebinding by Spiralverse™
★★★☆☆+ from 101 to 500 ratings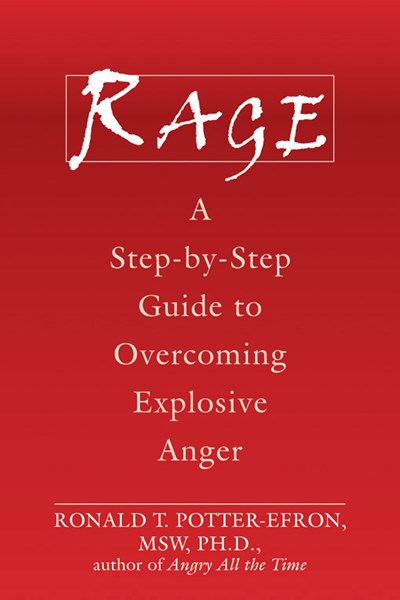 This new book from anger expert Potter-Efron offers powerful, emergency help to anyone whose extreme and volatile rages cause him or her to lose control of emotions, behaviors, and even conscious awareness-causing sometimes irreparable emotional and physical harm to themselves, their loved ones, and, occasionally, to innocent by-standers.
Powerful Tools for Overcoming Extreme Anger
Do you or someone you care about experience episodes of extreme and unpredictable anger? Intense rages that threaten relationships, jobs, property-or worse? The first thing you need to know is that you are not alone. Researchers estimate that some 7 percent of Americans may at some time experience a condition called intermittent explosive disorder (IED), which is characterized by reoccurring periods of extraordinary anger, and millions more have less frequent yet equally damaging experiences with rage. The second thing you need to know is that there is help.
Rage can be calmed and controlled with good advice and a practical, effective plan for change. From renowned anger expert Ronald Potter-Efron, this book breaks down rage into four types: In survival rage, anger is triggered by a sense of danger or threat; feelings of helplessness can trigger impotence rage; the third type, abandonment rage, is triggered by a fear of losing a cherished relationship; and shame rage occurs when someone feels very disrespected. Rage briefly discusses how the brain functions during extreme emotion, and then it turns to the task of helping you stop episodes of rage-right now! In classic Potter-Efron style, the book places the responsibility for control squarely on the shoulders of the angry individual. There is no room in this dangerous situation for whys and becauses. Instead, Rage offers no-nonsense, step-by-step anger management tools that really work.
This volume provides essential information for people who experience rage and the mental health professionals who work with them. Potter-Efron's comprehensive and detailed descriptions of the nature and determinants of four different kinds of rage will also be of great interest to the general reader. The interpersonal and behavioral factors that trigger these overwhelming experiences of the extreme expression of anger are clarified, with excellent examples of the manifestation of rage. These recommendations for dealing with intense emotional experiences will help the reader to both understand and cope more effectively with rage-related problems.
—Charles D. Spielberger, Ph.D., ABPP, distinguished research professor and director, of the Center for Research in Behavioral Medicine and Health Psychology at the University of South Florida in Tampa, FL
Ronald T. Potter-Efron, MSW, PhD, is a psychotherapist in private practice in Eau Claire, WI, who specializes in anger management, mental health counseling, and the treatment of addictions. He is the author of Angry All the Time and Stop the Anger Now and coauthor of The Secret Message of Shame and Anger, Alcoholism, and Addiction.