The Big Nine: How the Tech Titans and Their Thinking Machines Could Warp Humanity
Spiral-Bound | March 3, 2020
Amy Webb
Rebinding by Spiralverse™
★★★☆☆+ from 1,001 to 10,000 ratings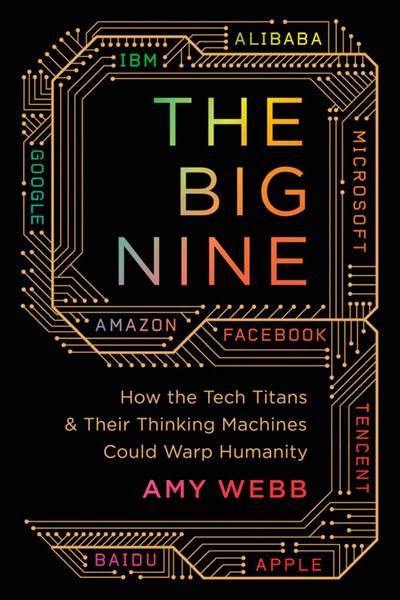 A call-to-arms about the broken nature of artificial intelligence, and the powerful corporations that are turning the human-machine relationship on its head.

We like to think that we are in control of the future of "artificial" intelligence. The reality, though, is that we -- the everyday people whose data powers AI -- aren't actually in control of anything. When, for example, we speak with Alexa, we contribute that data to a system we can't see and have no input into -- one largely free from regulation or oversight. The big nine corporations -- Amazon, Google, Facebook, Tencent, Baidu, Alibaba, Microsoft, IBM and Apple--are the new gods of AI and are short-changing our futures to reap immediate financial gain.

In this book, Amy Webb reveals the pervasive, invisible ways in which the foundations of AI -- the people working on the system, their motivations, the technology itself -- is broken. Within our lifetimes, AI will, by design, begin to behave unpredictably, thinking and acting in ways which defy human logic. The big nine corporations may be inadvertently building and enabling vast arrays of intelligent systems that don't share our motivations, desires, or hopes for the future of humanity.

Much more than a passionate, human-centered call-to-arms, this book delivers a strategy for changing course, and provides a path for liberating us from algorithmic decision-makers and powerful corporations.
"Rather than questioning the character of thinking machines, futurist Amy Webb turns a critical eye on the humans behind the computers. With AI's development overwhelmingly driven by nine tech powerhouses, she asks: Is it possible for the technology to serve the best interests of everyone?"—Wired
Amy Webb is a quantitative futurist whose research focus is on artificial intelligence and how emerging technologies will transform the way we live, work, and govern. She is the author of The Signals Are Talking: Why Today's Fringe Is Tomorrow's Mainstream, a professor of strategic foresight at the NYU Stern School of Business, and the founder of the Future Today Institute, a leading future forecasting firm that helps leaders and their organizations prepare for complex futures.

Now in its second decade, FTI advises Fortune 500 and Global 1000 companies, government agencies, large nonprofits, universities and startups around the world. Amy also publishes the annual FTI Emerging Tech Trends Report, which has now garnered more than 6.2 million cumulative views worldwide.