44 Chapters About 4 Men
Spiral-Bound | April 7, 2020
BB Easton
Rebinding by Spiralverse™
★★★☆☆+ from 1,001 to 10,000 ratings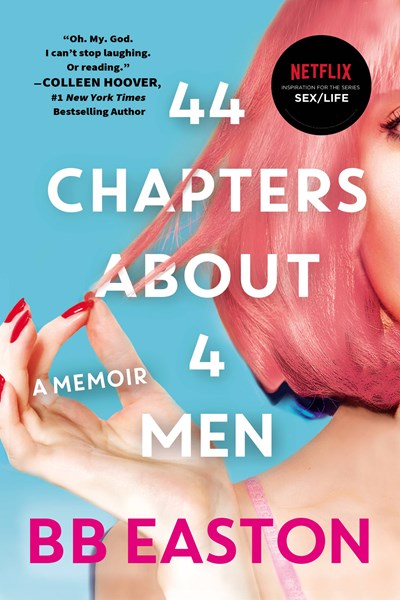 One woman's secret journal completely changes her marriage in this hilarious and biting memoir—the inspiration for the Netflix Original Series SEX/LIFE.
School psychologists aren't supposed to write books about sex. Doing so would be considered "unethical" and "a fireable offense." Lucky for you, ethics was never my strong suit.
Sex/Life: 44 Chapters About 4 Men is a laugh-out-loud funny and brutally honest look at female sexuality, as told through the razor-sharp lens of domesticated bad girl BB Easton. No one and nothing is off limits as BB revisits the ex-boyfriends—a sadistic tattoo artist, a punk rock parolee, and a heavy metal bass player—that led her to finally find true love with a straight-laced, drop-dead-gorgeous . . . accountant.
After settling down and starting a family with her perfectly vanilla "husbot," Ken, BB finds herself longing for the reckless passion she had in her youth. She begins to write about these escapades in a secret journal, just for fun, but when Ken starts to act out the words on the pages, BB realizes that she might have stumbled upon the holy grail of behavior modification techniques.
The psychological dance that ensues is nothing short of hilarious as BB wields her journal like a blowtorch, trying to light a fire under her cold, distant partner. Sometimes it works, sometimes it doesn't, but in the end, BB learns that the man she was trying so hard to change was perfect for her all along.

To view a comprehensive content warning, please visit the author's website.
"Oh. My. God. I can't stop laughing. Or reading. WHAT IS HAPPENING?"—Colleen Hoover, #1 New York Times bestselling author
BB Easton lives in the suburbs of Atlanta, Georgia, with her long-suffering husband, Ken, and two adorable children. She recently quit her job as a school psychologist to write books about her punk rock past and deviant sexual history full-time. Ken is suuuper excited about that.
BB's memoir, 44 Chapters About 4 Men, and the spin-off 44 Chapters novels are the inspiration for Sex/Life, a steamy, female-centered dramedy series coming soon to Netflix.
The Rain Trilogy, an epic apocalyptic love story, is her first work of fiction. Or at least, that's what she thought when she wrote it in 2019. Then 2020 hit and all of her dystopian plot points started coming true. If you need her, she'll be busy writing a feel-good utopian rom-com to see if that fixes everything.
You can find her procrastinating in all the following places:
Email: authorbbeaston@gmail.com
Website: www.authorbbeaston.com
Facebook: www.facebook.com/bbeaston
Instagram: www.instagram.com/author.bb.easton
Twitter: www.twitter.com/bb_easton
Pinterest: www.pinterest.com/artbyeaston
Goodreads: https://goo.gl/4hiwiR
BookBub: https://www.bookbub.com/authors/bb-easton
Spotify: https://open.spotify.com/user/bbeaston
Etsy: www.etsy.com/shop/artbyeaston
#TeamBB Facebook group: www.facebook.com/groups/BBEaston
And giving away a free e-book from one of her author friends each month in her newsletter: www.authorbbeaston.com/subscribe