The President's Daughter: A Thriller
Spiral-Bound | July 19, 2022
James Patterson, Bill Clinton
Rebinding by Spiralverse™
★★★★☆+ from 10,001 to 50,000 ratings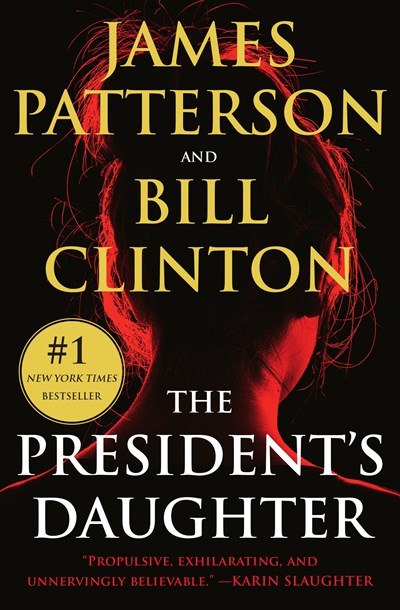 A rocket ride of a thriller—the #1 New York Times bestselling blockbuster by President Bill Clinton and James Patterson, "the dream team" (Lee Child).
All Presidents have nightmares. This one is about to come true.
Every detail is accurate—because one of the authors is President Bill Clinton.
The drama and action never stop—because the other author is James Patterson.
Matthew Keating, a one-time Navy SEAL—and a past president—has always defended his family as staunchly as he has his country. Now those defenses are under attack.
A madman abducts Keating's teenage daughter, Melanie—turning every parent's deepest fear into a matter of national security. As the world watches in real time, Keating embarks on a one-man special-ops mission that tests his strengths: as a leader, a warrior, and a father.
The authors' first collaboration, The President Is Missing, a #1 New York Times bestseller and the #1 bestselling novel of 2018, was praised as "ambitious and wildly readable" (New York Times Book Review) and "a fabulously entertaining thriller" (Pulitzer Prize-winning author Ron Chernow).
"Clinton and Patterson's standalone sequel to their 2018 thriller, The President Is Missing, puts their respective expertise to good use in a twisting plot."—TIME
Bill Clinton
was elected President of the United States in 1992, and he served until 2001. After leaving the White House, he established the Clinton Foundation, which helps improve global health, increase opportunity for girls and women, reduce childhood obesity and preventable diseases, create economic opportunity and growth, and address the effects of climate change. He is the author of a number of nonfiction works, including
My Life,
which was a #1 international bestseller. With James Patterson, he is co-author of the #1 international bestselling novel
The President Is Missing.
James Patterson is the world's bestselling author and most trusted storyteller. He has created many enduring fictional characters and series, including Alex Cross, the Women's Murder Club, Michael Bennett, and Maximum Ride. Among his notable literary collaborations are The President Is Missing, with President Bill Clinton, and the Max Einstein series, produced in partnership with the Albert Einstein Estate. For his prodigious imagination and championship of literacy in America, Patterson was awarded the 2019 National Humanities Medal. The National Book Foundation presented him with the Literarian Award for Outstanding Service to the American Literary Community, and he is also the recipient of an Edgar Award and nine Emmy Awards. He lives in Florida with his family.