Two-Headed Chicken
Spiral-Bound | August 31, 2022
Tom Angleberger, Tom Angleberger (Illustrated by)
Rebinding by Spiralverse™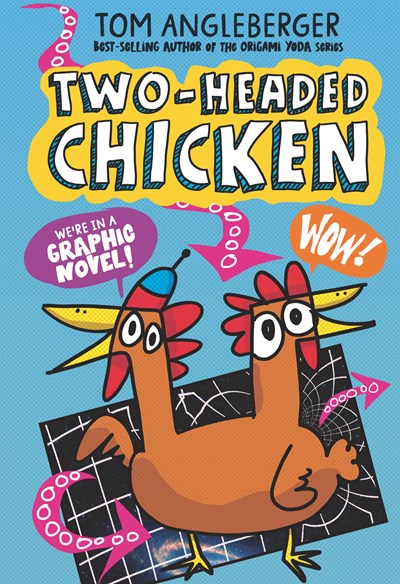 In a hilarious, absurdist romp by New York Times best-selling creator Tom Angleberger, a two-headed chicken races across the multiverse to escape a hungry moose.

Anything is possible in the multiverse, including a madcap adventure starring a plucky two-headed chicken. But look out—there's a chicken-hungry moose in pursuit! In this fourth wall–breaking graphic novel, our double-headed hero is chased through dozens of bizarre universes, from an ocean planet with a disturbing mermoose (that you can never unsee) to a world where chickens drive cars, and even to a land covered with . . . pizza sauce? With each BZOOP! of the universe-hopping Astrocap, the only thing to expect is the unexpected. Packed with jokes, quizzes, and games, the two-headed chicken's wacky escapades will remind readers of such favorites as Dog Man and CatStronauts. Absurdist superstar Tom Angleberger makes his original graphic novel debut with this lightning-fast caper that will have readers laughing out loud and eager for each new page.
As deliciously original and absurdly wacky as any Angleberger creation. The digital artwork combines off-kilter, hilarious, and wonderfully disruptive graphic novel animation with old-fashioned multimedia collage. . . It is knee-slappingly funny and utterly original at every level. . . as quick and easy to devour as fried chicken.
—Booklist (starred review)

Quizzes, puzzles, and even an affidavit give readers a chance to catch their breath while taking in punch-line pile-ups and fourth-wall smackdowns, which together offer all the pleasures of gulping from a comic firehose.
—Publishers Weekly

You cannot go wrong with a book that has a chicken in it. This book has a two-headed chicken, so it is better. The only thing that could possibly improve such a book would be if it had a moose. This one has a moose. There is other stuff, too, but I am not going to tell you the whole thing.

—Daniel Pinkwater, author of Kat Hats and Crazy in Poughkeepsie, neither of which has a chicken, but they're still good

Tom Angleberger brings his trademark cleverness and good-natured silliness to the graphic novel format. Never a dull moment with a chase across the multiverse—this book will keep you on your toes!

—Jen Wang, New York Times best-selling creator of Stargazing

All Raul the Thirds in all possible universes love this book, and so will you. I guarantee it!
—Raul the Third 2.0
Tom Angleberger is the author and illustrator of many children's books, including the Origami Yoda series, which has sold millions of copies worldwide. He lives in Virginia with his wife, Cece Bell.