The Big Aqua Book of Beginner Books
Spiral-Bound | September 5, 2017
Dr. Seuss, Robert Lopshire, Al Perkins, Art Cummings (Illustrated by), Robert Lopshire (Illustrated by)
Rebinding by Spiralverse™
★★★★☆+ from 31 to 100 ratings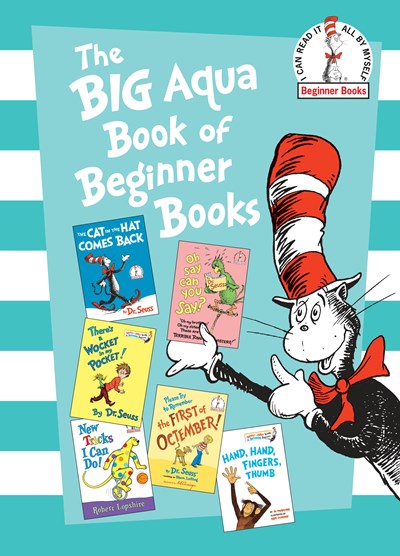 Six classic Beginner Books—including four by Dr. Seuss—for less than the price of two individual Beginner Books!

This collection of six Beginner Books bound together in one sturdy hardcover is the perfect gift at a fantastic price! The Big Aqua Book of Beginner Books includes the complete text and illustrations for:

· Dr. Seuss's The Cat in the Hat Comes Back
· Dr. Seuss's There's a Wocket in My Pocket!
· Dr. Seuss's Oh Say Can You Say?
· Dr. Seuss's Please Try to Remember the First of Octember! (illustrated by Art Cummings)
· Robert Lopshire's New Tricks I Can Do!
· Al Perkins's Hand, Hand, Fingers, Thumb (illustrated by Eric Gurney)

Ideal for starting a child's library, this collection will whet young readers' appetites for additional books in the Beginner Book series—and help nourish a lifelong love of reading!



Theodor Seuss Geisel—aka Dr. Seuss—is one of the most beloved children's book authors of all time. From The Cat in the Hat to Oh, the Places You'll Go!, his iconic characters, stories, and art style have been a lasting influence on generations of children and adults. The books he wrote and illustrated under the name Dr. Seuss (and others that he wrote but did not illustrate, including some under the pseudonyms Theo. LeSieg and Rosetta Stone) have been translated into 45 languages. Hundreds of millions of copies have found their way into homes and hearts around the world. Dr. Seuss's long list of awards includes Caldecott Honors, the Pulitzer Prize, and eight honorary doctorates. Works based on his original stories have won three Oscars, three Emmys, three Grammys, and a Peabody.