The Designing Your Life Workbook: A Framework for Building a Life You Can Thrive In
Spiral-Bound | April 3, 2018
Bill Burnett, Dave Evans
Rebinding by Spiralverse™
★★★★☆+ from 101 to 500 ratings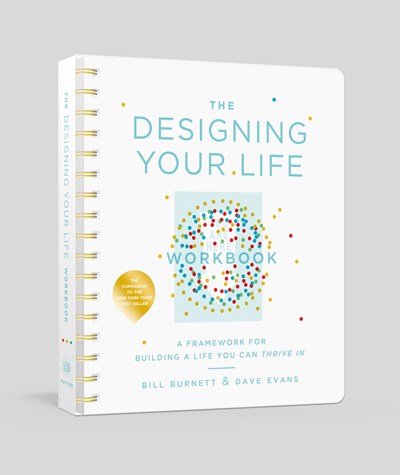 The Interactive Companion to the #1 New York Times Bestselling Book

Design the most important project of all: your life. Based on the wildly popular Stanford course that started the life design movement, this notebook, which has a metallic spiral spine, frosted acetate cover, and elastic bellyband allows you to dig deeper into your curiosities, motivations, and skills; define your goals; and track your progress. Work through innovative option-generating tools and exercises, including:

· A Health/Work/Play/Love Dashboard tool to reflect on your work/life balance
· Questions to help you articulate your Lifeview and Workview and define your life design Compass
· Good Time Journal pages to log your energy and engagement throughout the day
· Fold-out dotted paper for mind mapping to generate new ideas and getting unstuck
· Worksheets to help you ideate alternate Odyssey Plans for different versions of the future you
· Charts for tracking your Life Design Interviews

Whether you're a recent graduate, mid-career, or contemplating your encore life or retirement—and whether it's time to make that big move or you're just interested in making your current situation a little bit better—The Designing Your Life Workbook is your dynamic roadmap to building a joyful, fulfilling life that always holds the possibility of surprise.
Praise for Designing Your Life:

"Life has questions. They have answers . . . Learn how to find a fulfilling career . . . learn how to better navigate life's big moment decisions and kill your 'wicked problems' dead."
—The New York Times

"The prototype for a happy life . . . Burnett and Evans show how to apply Stanford's famous design principles to finding your place in the world, as a recent graduate or mid-career."
—NPR's Brian Lehrer

"Designing Your Life walks readers through the process of building a satisfying, meaningful life by approaching the challenge the way a designer would. Experimentation. Wayfinding. Prototyping. Constant iteration. You should read the book. Everyone else will."
—Daniel Pink, bestselling author of Drive

"This [is] the career book of the next decade and . . . the go-to book that is read as a rite of passage whenever someone is ready to create a life they love."
—David Kelley, Founder of IDEO

"Burnett and Evans believe there isn't one perfect job waiting for us any more than there is one perfect solution to a design problem. Rather, our professional lives are journeys that involve trying lots of jobs in order to find the ones that make us happy. Everyone should read this book!"
—Ina Garten, author of the Barefoot Contessa cookbooks and host of Food Network's Barefoot Contessa

"An empowering book based on their popular class of the same name at Stanford University . . . Perhaps the book's most important lesson is that the only failure is settling for a life that makes one unhappy. With useful fact-finding exercises, an empathetic tone, and sensible advice, this book will easily earn a place among career-finding classics."
—Publishers Weekly
BILL BURNETT is the executive director of the Design Program at Stanford and marketing leader of the original Apple PowerBook. DAVE EVANS is a lecturer in the Product Design Program at Stanford, a management consultant, and a cofounder of Electronic Arts. They are the authors of the New York Times bestseller Designing Your Life.