The Royal Ranger: Duel at Araluen
Spiral-Bound | June 9, 2020
John Flanagan
Rebinding by Spiralverse™
★★★★☆+ from 1,001 to 10,000 ratings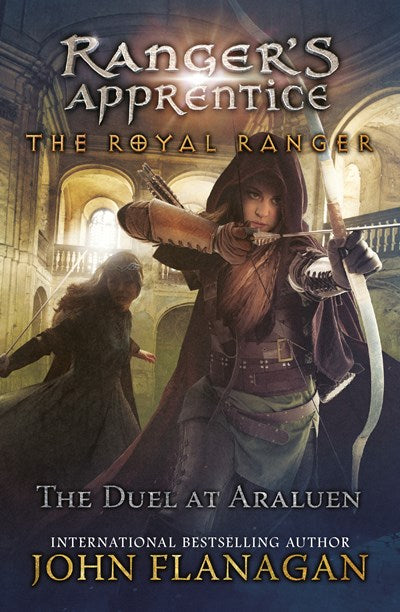 International bestselling author John Flanagan returns to world of Ranger's Apprentice in this new installment of the Royal Ranger series starring Maddie, Will Treaty's fearless young female apprentice. Perfect for fans of J.R.R. Tolkien, Brian Jacques's Redwall, and George R. R. Martin's Game of Thrones!

King Duncan and Princess Cassandra are trapped in the south tower of Castle Araluen and under near-constant attack
from the Red Fox Clan. Sir Horace and Ranger Commandant Gilan are holed up in an old hill fort, surrounded by the enemy. And Ranger's apprentice Maddie is the only one who can save them all.

With the help of Hal, Thorn, and the rest of the Heron brotherband, Maddie will have to break her father and his men out of the hill fort, but will they reach Castle Araluen in time?

Internationally bestselling author of the Ranger's Apprentice and Brotherband series, John Flanagan returns in the captivating next installment of the Royal Ranger series: The Royal Ranger: Duel at Araluen.
JOHN FLANAGAN grew up in Sydney, Australia, hoping to be an author, and after a successful career in advertising and television, he began writing a series of short stories for his son, Michael, in order to encourage him to read. Those stories would eventually become The Ruins of Gorlan, Book 1 of the Ranger's Apprentice epic. Now with his companion series, Brotherband, the novels of John Flanagan have sold millions of copies and made readers out of kids the world over. Mr. Flanagan lives in the suburb of Mosman, Australia, with his wife. In addition to their son, they have two grown daughters and four grandsons. You can visit John Flanagan at www.WorldofJohnFlanagan.com