When You Trap a Tiger: (Newbery Medal Winner)
Spiral-Bound | January 3, 2023
Tae Keller
Rebinding by Spiralverse™
★★★★☆+ from 10,001 to 50,000 ratings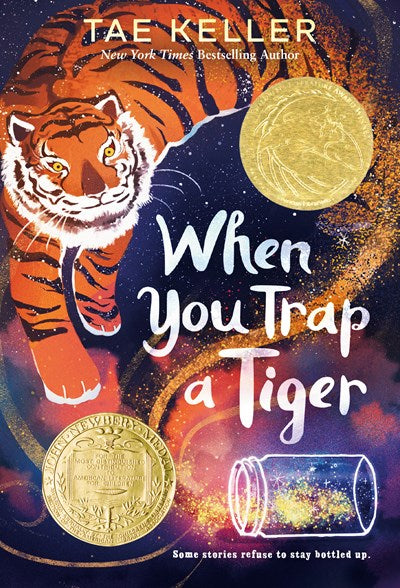 WINNER OF THE NEWBERY MEDAL • NEW YORK TIMES BESTSELLER • WINNER OF THE ASIAN/PACIFIC AMERICAN AWARD FOR CHILDREN'S LITERATURE

Would you make a deal with a magical tiger? This uplifting story brings Korean folklore to life as a girl goes on a quest to unlock the power of stories and save her grandmother.

When Lily and her family move in with her sick grandmother, a magical tiger straight out of her halmoni's Korean folktales arrives, prompting Lily to unravel a secret family history. Long, long ago, Halmoni stole something from the tigers. Now they want it back. And when one of the tigers approaches Lily with a deal—return what her grandmother stole in exchange for Halmoni's health—Lily is tempted to agree. But deals with tigers are never what they seem! With the help of her sister and her new friend Ricky, Lily must find her voice . . . and the courage to face a tiger.


Story Locale:Contemporary Small Town in Washington State

Series Overview: A new middle grade novel is coming from Tae later this year!

Winner of the Boston Globe Horn Book Honor Award for Fiction and Poetry

"Roars to life with just a touch of magic." —Kirkus Reviews, starred review

"A heartfelt reminder of the wonder and beauty in our everyday lives." —Booklist, starred review

"Deeply moving... vulnerable and mythic storytelling in the vein of Erin Entrada Kelly and Kacen Callender." —School Library Journal, starred review

"Keller's (The Science of Breakable Things) #OwnVoices journey through Korean mythology begins with a fantastical quest and slowly transforms into a tale about letting go and the immortality that story can allow." —Publishers Weekly, starred review

"It's a complex, satisfying story, one that foregrounds family and healing alongside a love for Korean folklore." —The Bulletin, starred review

"This beautiful book reminds us that, even in a world filled with stolen stars, crafty tigers, and family secrets that spring from folklore, the most powerful magic of storytelling is the story we decide to tell about ourselves." —Kat Yeh, author of The Truth About Twinkie Pie

"An intoxicating mix of folktale, fantasy, friendship and love (and tigers!). Through a series of challenges--and also a lot of laughter--Lily (a.k.a. Lily Bean, Eggi, Little Egg) finds out what she is made of. She is a character who'll stay with me--and whom I already miss!" —Marie Myung-Ok Lee, author of Finding My Voice and Somebody's Daughter

"An ambitious and bewitching brew of Korean folklore, magical realism, and classic coming-of-age story, When You Trap a Tiger is a tender tale as unique as it is universal. Keller's writing shimmers with magic, heart, and hope." —Ali Standish, author of Before I Was Ethan

Praise for Tae Keller's The Science of Breakable Things:

Named one of the Best Books of the Year by NPR, Kirkus Reviews, and the Chicago Public Library!

"A compassionate glimpse of mental illness accessible to a broad audience." —Kirkus Reviews, starred review

"A winning story full of heart and action." —Booklist, starred review

"Holy moly!!! This book made me feel." —Colby Sharp, editor of The Creativity Project

"Natalie is an engaging narrator whose struggles at home and with her peers ring true." —Deborah Hopkinson, award-winning author

"Inspiring, emotional, and heartwarming." —Melissa Savage, author of Lemons
TAE KELLER was born and raised in Honolulu, where she grew up on purple rice, Spam musubi, and her halmoni's tiger stories. After high school, she moved in search of snow, and now lives in Seattle, WA. She is also the Newbery Award–winning and New York Times bestselling author of When You Trap a Tiger, The Science of Breakable Things, and Jennifer Chan Is Not Alone.


Author Residence: Seattle, WA

Author Hometown: Honolulu, Hawaii