The Stars Beneath Our Feet
Spiral-Bound | January 8, 2019
David Barclay Moore
Rebinding by Spiralverse™
★★★☆☆+ from 1,001 to 10,000 ratings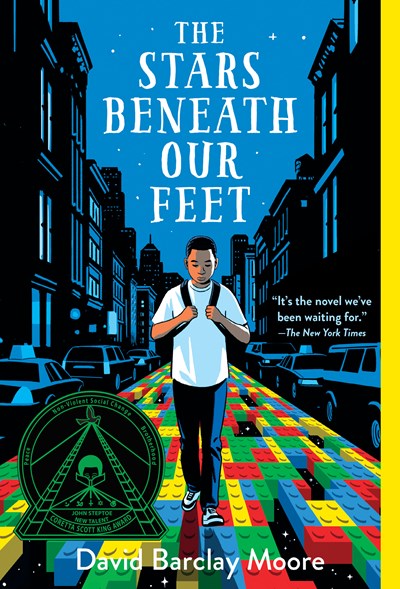 "The right story at the right time. . . . It's not just a narrative; it's an experience. It's the novel we've been waiting for." —The New York Times

A boy tries to steer a safe path through the projects in Harlem in the wake of his brother's death in this outstanding debut novel that celebrates community and creativity.

** WINNER OF THE CORETTA SCOTT KING–JOHN STEPTOE AWARD FOR NEW TALENT! **

MICHAEL B. JORDAN TO DIRECT MOVIE ADAPTATION!

SIX STARRED REVIEWS!

It's Christmas Eve in Harlem, but twelve-year-old Lolly Rachpaul and his mom aren't celebrating. They're still reeling from his older brother's death in a gang-related shooting just a few months earlier. Then Lolly's mother's girlfriend brings him a gift that will change everything: two enormous bags filled with Legos. Lolly's always loved Legos, and he prides himself on following the kit instructions exactly. Now, faced with a pile of building blocks and no instructions, Lolly must find his own way forward.

His path isn't clear—and the pressure to join a "crew," as his brother did, is always there. When Lolly and his friend are beaten up and robbed, joining a crew almost seems like the safe choice. But building a fantastical Lego city at the community center provides Lolly with an escape—and an unexpected bridge back to the world.

David Barclay Moore paints a powerful portrait of a boy teetering on the edge—of adolescence, of grief, of violence—and shows how Lolly's inventive spirit helps him build a life with firm foundations and open doors.

MORE PRAISE FOR THE STARS BENEATH OUR FEET:
A New York Times Notable Book
A Time Top 10 Children's Books of the Year
A Boston Globe Best Children's Book of the Year
A Publishers Weekly Best Book of the Year
A Kirkus Reviews Best Children's Book of the Year
A Shelf Awareness Best Children's Book of the Year
An ALA-YALSA Quick Pick
An ALA-ALSC Notable Children's Book

"A fast and furious read in which we meet some amazing people, people that stay with us. David Barclay Moore is an exciting new voice. We definitely haven't heard the last of his brilliance." —Jacqueline Woodson, Newbery Honor and National Book Award–winning of Brown Girl Dreaming

"The Stars Beneath Our Feet is about the weight of the world on the back of a child, and the creative tools necessary to alleviate that pressure. I found myself rooting for Lolly, and you will too." —Jason Reynolds, Coretta Scott King Honor Award Winner for As Brave As You
A Publisher's Weekly Best Book of the Year
A Kirkus Reviews Best Book of the Year
A Shelf Awareness Best Book of the Year
A YALSA Quick Pick
An ALA Notable Book

"Moore tells Lolly's story of survival with the right mix of humor and hope to balance violence, fear, denial and deprivation. That's a tall order. To succeed is a celebration. The power of adults as influencers and confidants, nurturing by words, deeds and acts of kindness large and small, fuels every page of this novel. It's a book in which art is celebrated, being different is an act of resistance, and acceptance, not resignation, is the answer." —The New York Times

"This well-honed debut novel paints a vivid picture of Lolly and the choices that he must make, but beyond that, it introduces a cast of memorable, fully realized characters, each of whom will stay with readers long beyond the closing page." —School Library Journal, starred review

"Readers will marvel at the grandeur of what Lolly and Rose are able to build and learn together and will find comfort in the intimacy of Lolly's introspective narration." —Bulletin, starred review

"A debut that serves as a powerful instructive for writing from and reading the intersections—125th Street-size intersections for all readers to enjoy." —Kirkus Reviews, starred review

"Debut author Moore delivers a realistic and at times brutal portrait of life for young people of color who are living on the edge of poverty. At the same time, Moore infuses the story with hope and aspiration, giving Lolly the chance to find salvation through creativity." —Publishers Weekly, starred review

"Moore's work with the Harlem Children's Zone and Quality Services for the Autism Community serve him well in creating this debut, slice-of-life narrative with an authentic adolescent voice and strong adult supports, all of whom are true to their urban world." —VOYA, starred review

"Magnificent." —Shelf Awareness, starred review

"Realistic problems and vivid depictions of family and city life make this middle-grade debut stand out." —Booklist
DAVID BARCLAY MOORE is the winner of the Coretta Scott King–John Steptoe Award for New Talent for The Stars Beneath Our Feet.

David was born and raised in Missouri. After studying creative writing at Iowa State University, film at Howard University in Washington, D.C., and language studies at l'Université de Montpellier in France, David moved to New York City, where he has worked in film, journalism, and communications.

David now divides his time between Brooklyn, NY; Los Angeles, CA; and St. Louis, MO.