DEI Deconstructed: Your No-Nonsense Guide to Doing the Work and Doing It Right
Spiral-Bound | November 8, 2022
Lily Zheng
Rebinding by Spiralverse™
★★★★☆+ from 101 to 500 ratings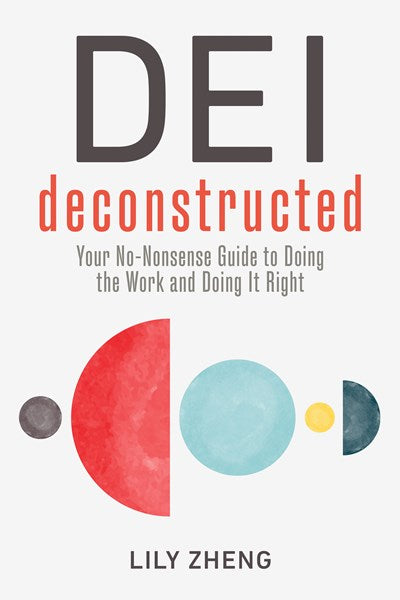 The definitive comprehensive and foundational text for critically analyzing and applying actionable DEI techniques and strategies, written by one of LinkedIn's most popular experts on DEI.

The importance of diversity, equity, and inclusion in the workplace cannot be understated. But when half-baked and under-developed strategies are implemented, they often do more harm than good, leading the very constituents they aim to support to dismiss DEI entirely.

DEI Deconstructed analyzes how current methods and "best practices" leave marginalized people feeling frustrated and unconvinced of their leaders' sincerity, and offers a roadmap that bridges the neatness of theory with the messiness of practice. Through embracing a pragmatic DEI approach drawing from cutting-edge research on organizational change, evidence-based practices, and incisive insights from a DEI strategist with experience working from the top-down and bottom-up alike, stakeholders at every level of an organization can become effective DEI changemakers. Nothing less than this is required to scale DEI from interpersonal teeth-pulling to true systemic change.

By utilizing an outcome-oriented understanding of DEI, along with a comprehensive foundation of actionable techniques, this no-nonsense guide will lay out the path for anyone with any background to becoming a more effective DEI practitioner, ally, and leader.
"Women of color deserve truly equitable workplaces where our success and well-being is centered. Lily Zheng's DEI Deconstructed is a compelling must-read for leaders who want to stay accountable, make change, and create better workplaces for us all."
—Minda Harts, bestselling author of The Memo and Right Within

"Action-oriented, results-driven, and outcomes-based, Lily Zheng's no-nonsense approach transforms DEI into a tangible and accessible process to galvanize your entire workforce as DEI stakeholders."
—David G. Smith, PhD, Associate Professor, Johns Hopkins Carey Business School, and coauthor of Athena Rising and Good Guys

"Using their signature decisive and direct voice, Lily Zheng delivers an accountability-centered and immediately actionable road map to building a more equitable and inclusive modern workplace."
—Michelle MiJung Kim, award-winning author of The Wake Up and a LinkedIn Top Voice in Racial Equity

"One of the brightest minds in DEI work today brings us a 'how-to' for inclusive leaders. You'll be amazed at how Zheng's straight talk and clear thinking are so deeply grounded in research. You should 'book club' this one in your business; it offers the path for avoiding 'performative allyship.'"
—Chuck Shelton, CEO, Greatheart Consulting

"A must-read guide for how to advocate for change at work and in the broader world. Lily Zheng's insights on the various roles that changemakers take on, combined with their deep analysis of the history of the field, will make DEI Deconstructed a critical desk reference for all of us seeking to build the better world we imagine."
—Aubrey Blanche, The Mathpath and Senior Director of Equitable Design, Culture Amp
Lily Zheng (they/them) is a sought-after diversity, equity, and inclusion speaker, strategist, and organizational consultant who specializes in hands-on systemic change to turn positive intentions into positive outcomes for workplaces and everyone in them. A dedicated changemaker and advocate named a Forbes D&I Trailblazer and LinkedIn Top Voice in Racial Equity, Lily and their work have been featured by the Harvard Business Review, New York Times, and NPR.

Author Residence: San Jose, CA

Author Hometown: San Jose, CA