One Man's Wilderness, 50th Anniversary Edition: An Alaskan Odyssey
Spiral-Bound |
Richard Louis Proenneke, Sam Keith, Nick Offerman (Foreword by)
Rebinding by Spiralverse™
★★★★☆+ from 1,001 to 10,000 ratings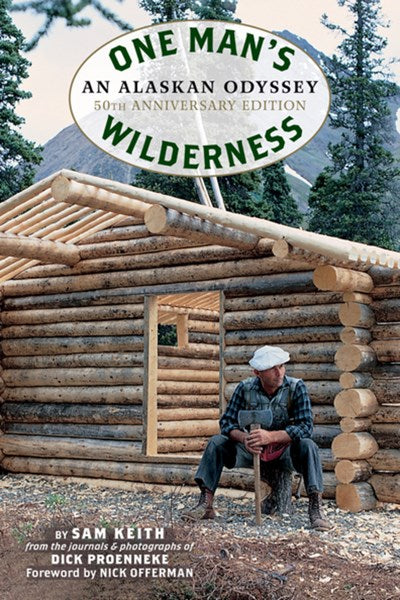 Winner of the National Outdoor Book Award.
Celebrating the 50th anniversary of when Dick Proenneke first broke ground and made his mark in the Alaskan wilds in 1968, this bestselling memoir features an all-new foreword by Nick Offerman plus color photographs not seen in print for over 20 years.
To live in a pristine land unchanged by man...to roam a wilderness through which few other humans have passed...to choose an idyllic site, cut trees, and build a log cabin...to be a self-sufficient craftsman, making what is needed from materials available...to be not at odds with the world, but content with one's own thoughts and company...
Thousands have had such dreams, but Dick Proenneke lived them. He found a place, built a cabin, and stayed to become part of the country. One Man's Wilderness is a simple account of the day-to-day explorations and activities he carried out alone, and the constant chain of nature's events that kept him company. From Dick's journals, and with firsthand knowledge of his subject and the setting, Sam Keith has woven a tribute to a man who carved his masterpiece out of the beyond.
"[Proenneke's] journals from the text of this handsome book, and his sparkling color slides illustrate it with a beauty that tugs at your heart and sets your heels to itching just a little. You owe yourself the pleasure of this book." -Biloxi Sun Herald
Richard Proenneke retired from his job as an operator and mechanic at age fifty to live the next thirty years of his life in the wilds of Twin Lakes, Alaska. There he built a cabin, hunted and gathered his own food, educated himself as a naturalist, and recorded his activities and findings in journals and on film. His time was later made into the 2003 PBS documentary Alone in the Wilderness and written in the book One Man's Wilderness, published in 1973 by his friend Sam Keith. Proenneke returned to civilization in 1999 and died at the age of 82 in 2003 in Hemet, California.