Healthy Quick & Easy Smoothies: 100 No-Fuss Recipes Under 300 Calories You Can Make with 5 Ingredients
Spiral-Bound | November 13, 2018
White, Dana Angelo MS, RD, ATC
Rebinding by Spiralverse™
★★★☆☆+ from Up to 30 ratings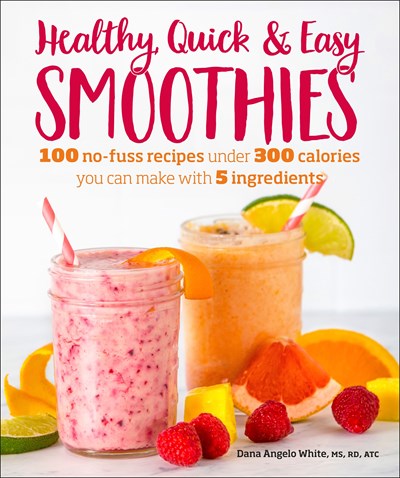 Satisfy your anytime cravings with a smoothie!

On a summer day, after an intense workout, or on a lazy afternoon, nothing refreshes better than a cold smoothie. Unfortunately, it can often take a lot of time and effort to make and enjoy them. But not the smoothie recipes in Healthy, Quick & Easy Smoothies. You won't need more than 10 minutes and no more than 5 ingredients to make any smoothie in this book--and they're all under 300 calories!

Healthy, Quick & Easy Smoothies includes these features:

- 100 mouthwatering recipes for tropical fruit, berry, combination, and green smoothies.
-Complete nutritional data to help with your weight loss goals.
- Expert information from Dana Angelo White, nutritionist for the Food Network, on why smoothies are better than juices and how to best make smoothies.

Every recipe contains complete nutritional data to help you plan your meals and meet your daily dietary needs. Many recipes also offer modifications you can make - but the healthy, quick, and easy promises never change. And because you have so many delicious smoothies to choose from, your blender is sure to occupy a permanent place on your countertop!
Dana Angelo White (MS, RD, ATC) is a registered dietitian, certified athletic trainer, and nutrition and fitness consultant. She's the nutrition expert for Food Network.com and the founding contributor for Food Network's Healthy Eats blog.

Dana has written seven books: Healthy Air Fryer Cookbook, Healthy Instant Pot Cookbook, Healthy, Quick & East Smoothies, Healthy One Pan Dinners, Healthy Vegan Air Fryer Cookbook, Healthy, Quick & Easy Juices, and First Bites: Superfoods for Babies and Toddlers. Her recipes, quotes, and articles have also been featured on Food Network.com, Verywell.com, Greatist.com, HealthyDay, WebMD, and Cooking Light.com as well as in Today's Dietitian, Shape, Seventeen, Prevention, Muscle & Fitness, Men's Fitness, and Maxim magazines.

Dana is the sports dietitian and assistant clinical faculty in the Department of Athletic Training and Sports Medicine at Quinnipiac University in Hamden, Connecticut. She resides in Fairfield, Connecticut, with her husband, three children, and Boston Terrier, Violet Pickles.