Celtic Tales: Fairy Tales and Stories of Enchantment from Ireland, Scotland, Brittany, and Wales
Spiral-Bound | August 30, 2016
Kate Forrester (Illustrated by)
Rebinding by Spiralverse™
★★★☆☆+ from 1,001 to 10,000 ratings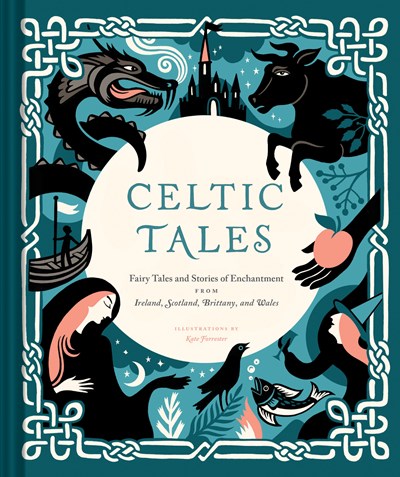 A deluxe volume of 16 Celtic folk tales sure to impress any fan of cultural and mythological literature with impactful and stunning illustrations by contemporary artist Kate Forrester.
Perilous quests, true love, and animals that talk. The traditional stories of Ireland, Scotland, Brittany, and Wales collected in this extraordinary volume conjure forgotten realms and rare magical creatures in vivid prose, transporting us to the fantastical world of Celtic folklore. These timeless tales brim with wit and magic, and each one is brought to life with elegant silhouette art in this special illustrated edition.
"It's an absorbing introduction to the lore of Albion, but readers will also enjoy teasing out similarities between these tales and more familiar ones."—
Publishers Weekly
ENCHANTING COLLECTION: Translated and transcribed by folklorists in the late 19th and 20th centuries, the 16 stories collected in
Celtic Tales
are grouped into four themes: Tricksters, The Sea, Quests, and Romance. Discover delightfully entertaining tales such as Master and Man, The Soul Cages, The Red-Etin, and The Witch of Lok Island.
BEAUTIFUL GIFT: With its bold hardcover design, a satin ribbon page marker, and a striking full-page illustration for each story,
Celtic Tales
makes an impressive gift. Perfect for fans of fairy tales, ghost stories, Greek mythology, Roman mythology, Chinese mythology, Celtic mythology, and folklore and cultural studies from around the globe.
READERS LOVE IT: With hundreds of 5-star ratings, reviewers rave that this "absolutely beautiful" book is one that "will stand out on your shelf."
Perfect for:
Fans of other titles in the popular Tales series, including Ghostly Tales,Nordic Tales, Tales of Japan, Tales of India, and Tales of East Africa
Anyone who enjoys timeless stories, from the fairy tales of the Brothers Grimm to Egyptian mythology to Greek classics
Collectors of illustrated classics or artfully designed books
Adding to the shelf alongside Stephen Fry's Greek Mythology trilogy (Mythos, Heroes, Troy), Neil Gaiman's Norse Mythology, or Madeline Miller's Circe and Song of Achilles
"Divided into four categories-'Tricksters,' 'The Sea,' 'Quests,' and 'Romance'-the 16 tales that make up this handsomely designed collection are adapted from sources originally published between 1888 and 1929, now in the public domain. Full-page silhouette-style images from British illustrator Forrester open each tale, framed within intricate borders featuring fish, gravestones, dragons, and other thematic imagery entwined with Celtic knots. Witches, selkies, fairies, and other creatures make appearances in the brisk tales, which tend toward light humor and happy resolutions. It's an absorbing introduction to the lore of Albion, but readers will also enjoy teasing out similarities between these tales and more familiar ones-the Scottish tale of 'The Black Bull of Norroway' carries echoes of 'Beauty and the Beast,' while a clumsy girl named Ursula features in the Rumpelstiltskin-like story that opens the collection."
-Publishers Weekly
Kate Forrester is an illustrator based in Brighton, England.