Bye-Bye Binky: Big Kid Power
Spiral-Bound | March 8, 2016
Maria van Lieshout
Rebinding by Spiralverse™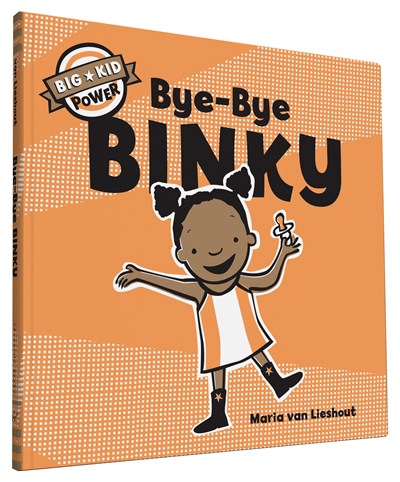 For anyone who could use a little help motivating a toddler to give up their beloved binky, this charming book celebrates the important milestone of giving up a pacifier as an exciting step towards becoming a big kid.
Babies use a binky. Do big kids? No! Big kids say, "Bye-bye, binky!"
Every child's life is filled with milestones. Some happen easily; others need a little extra support. Artist and mom Maria van Lieshout has been there. Drawing upon her own experiences, she has created an engaging series of books that are just right for children on the brink of major changes and the caregivers who encourage them.
EMPOWERING THE YOUNGEST READERS: With simple text and cute illustrations, this sweet book encourages toddlers to get excited about becoming a big kid.
EXPERIENCED AUTHOR-ILLUSTRATOR: Born and raised in Holland, Maria van Lieshout now lives in the San Francisco Bay Area with her husband and young son. A full-time children's book author and illustrator, Maria has written and illustrated twelve children's books to date, including the Big Kid Power series,
Hopper and Wilson
,
Bloom!
,
Flight 1-2-3
, and more.
PART OF AN ESSENTIAL SERIES: Big Kid Power is a collection of four books including
Bye-Bye Binky
,
I Use the Potty, No More Tantrums,
and
I Sleep in a Big Bed
. This series of books is ideal for toddlers facing
important milestones along the road to becoming a big kid.
Perfect for:
Motivating toddlers to give up their pacifiers
Parents and caregivers looking for encouraging bedtime stories for little ones
Fans of children's books that celebrate diversity
"These volumes discuss getting-bigger milestones-learning to use the potty, giving up the pacifier-in a way that little kids can grasp."--The Horn Book Magazine
Maria van Lieshout is the author-illustrator of several picture books, including Backseat A-B-See and Flight 1-2-3. Born and raised in Holland, she now lives in the San Francisco Bay Area with her husband and young son.