1–2 Timothy and Titus: A 12-Week Study
Spiral-Bound |
Brian J. Tabb, J. I. Packer (General editor), Dane C. Ortlund (Series edited by), Lane T. Dennis (Series edited by)
Rebinding by Spiralverse™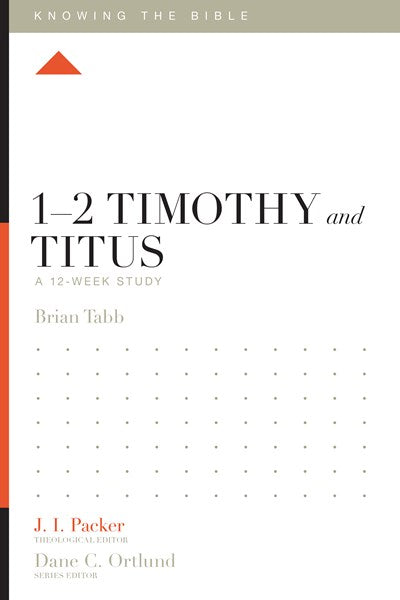 "A tremendous resource for those wanting to study and teach the Bible with an understanding of how the gospel is woven throughout Scripture." —Bryan Chapell, Pastor, Grace Presbyterian Church
The Knowing the Bible series is a resource designed to help Bible readers better understand and apply God's Word.
These 12-week studies lead participants through books of the Bible and are made up of four basic components: (1) reflection questions help readers engage the text at a deeper level; (2) "Gospel Glimpses" highlight the gospel of grace throughout the book; (3) "Whole-Bible Connections" show how any given passage connects to the Bible's overarching story of redemption, culminating in Christ; and (4) "Theological Soundings" identify how historic orthodox doctrines are taught or reinforced throughout Scripture.
With contributions from an array of influential pastors and church leaders, these gospel-centered studies will help Christians see and cherish the message of God's grace on every page of the Bible.
The letters to Timothy and Titus are among Paul's most personal and practical epistles. The apostle writes to instruct these younger men in the importance of sound doctrine and to urge them to rebuke false teaching.
This accessible study shows how Paul's letters exhort all Christians to protect and pass on the true gospel of Jesus Christ, which has the power to save and transform sinners.
Brian J. Tabb (PhD, London School of Theology) is academic dean and professor of biblical studies at Bethlehem College and Seminary. He is general editor of Themelios, co-editor of Five Views of Christ in the Old Testament, and author of After Emmaus and other books. Brian lives with his wife, Kristin, and their four children in St. Paul, Minnesota.
J. I. Packer (1926–2020) served as the Board of Governors' Professor of Theology at Regent College. He authored numerous books, including the classic bestseller Knowing God. Packer also served as general editor for the English Standard Version Bible and as theological editor for the ESV Study Bible.
Dane C. Ortlund (PhD, Wheaton College) serves as senior pastor of Naperville Presbyterian Church in Naperville, Illinois. He is the author of Gentle and Lowly: The Heart of Christ for Sinners and Sufferers and Deeper: Real Change for Real Sinners. Dane and his wife, Stacey, have five children.
Lane T. Dennis (PhD, Northwestern University) is the former president and CEO of Crossway. Before joining Crossway in 1974, he served as a pastor in campus ministry at the University of Michigan (Sault Ste. Marie) and as the managing director of Verlag Grosse Freude in Switzerland. He is the author and/or editor of three books, including the Gold Medallion-award-winning book Letters of Francis A. Schaeffer, and he is the former chairman of the Evangelical Christian Publishers Association. Dennis serves as the chairman of the ESV (English Standard Version) Bible Translation Oversight Committee and as the executive editor of the ESV Study Bible. Lane and his wife, Ebeth, live in Wheaton, Illinois.