The Joy of Home
Spiral-Bound | April 18, 2023
Ashley Gilbreath, James T. Farmer (Foreword by)
Rebinding by Spiralverse™
★★★☆☆+ from Up to 30 ratings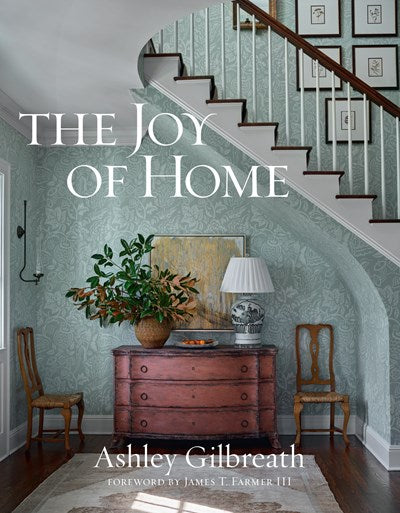 Creating homes that bring families together, where they can celebrate life's joys.
Interior designer Ashley Gilbreath's fresh approach to Southern decorating is guided by her respect for family and tradition with an eye on practicality and warmheartedness. Her first book reveals the breadth of her casually elegant style. Whether it's in town, on the water, or in the countryside, each home exhibits thoughtful planning and attention to detail in harmony with the client's vision.
Gilbreath gives readers insight into her design process, striking a balance between functionality, comfort, and beauty. From using a client's favorite color as a unifying thread throughout, to offering guidance on designing a forever home that can mature with the family over time, every space is influenced by her passion for gracious everyday living. Inviting readers into her family beach home, Ashley explores the impact of small architectural updates, and the use of thoughtful injection of color and pattern to achieve the perfect mix. Ashley's signature design strategies are distinguishable in each home. She artfully mixes new and old pieces and utilizes favorite custom treatments to create a welcoming spirit grounded in tradition.
Bringing family together is the reason Gilbreath designs. "Balancing form and function with memory and emotion, home is a place for people to embrace family and celebrate life's joys," she says. The Joy of Home gives readers insight and inspiration to create their own joyful home.
Home locations:
Auburn, Alabama
Lake Martin in Alabama
Mobile, Alabama
Watersound Beach, Florida
Alpharetta, Georgia
Columbus, Georgia
Baton Rouge, Louisiana
Murfreesboro, Tennessee
"… full of inspiration for anyone who loves the fine art of high-style design with a livable home. In her debut book, Ashley Gilbreath showcases her breadth of design with the 9 homes featured and firmly establishes herself as a fresh voice in the design world. Ashley has mastered the art of mixing antiques with newer furnishings and art to give a room soul. If you love gracious living, The Joy of Home is a must read."
-Lynn Terry / Southern Home
Ashley Gilbreath is a Southern-based, award-winning, interior designer known for creating casually elegant homes where the family can gather to celebrate everyday living. Her fresh take on interiors has been seen in Southern Living, House Beautiful, Luxe, Coastal Living, Southern Home, Atlanta Homes & Lifestyle, and in homes from Florida to New York. She lives in Montgomery, Alabama, with her husband and three children.