House of Hades, The-Heroes of Olympus, The, Book Four: The House of Hades
Spiral-Bound | March 31, 2015
Rick Riordan
Rebinding by Spiralverse™
★★★★☆+ from 50,001 + ratings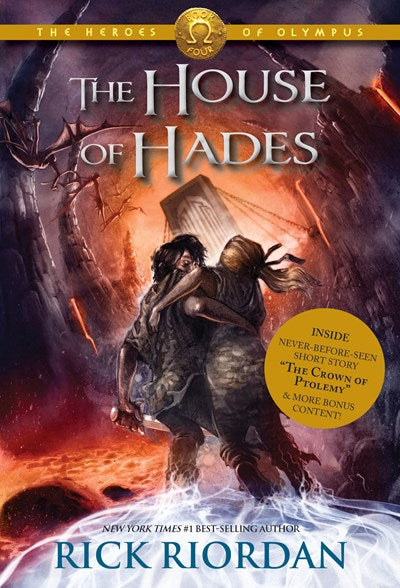 At the conclusion of The Mark of Athena, Annabeth and Percy tumble into a pit leading straight to the Underworld. The other five demigods have to put aside their grief and follow Percy's instructions to find the mortal side of the Doors of Death. If they can fight their way through Gaea's forces, and Percy and Annabeth can survive the House of Hades, then the Seven will be able to seal the Doors from both sides and prevent the giants from raising Gaea. But, Leo wonders, if the Doors are sealed, how will Percy and Annabeth be able to escape?
They have no choice. If the demigods don't succeed, Gaea's armies will never die. They have no time. In about a month, the Romans will march on Camp Half-Blood. The stakes are higher than ever in this adventure that dives into the depths of Tartarus.
This paperback edition will include a never-before-seen short story, "The Crown of Ptolemy," in which Percy and Annabeth fight alongside Carter and Sadie Kane, and more bonus content!
PRAISE FOR THE HOUSE OF HADES

"Adventure fans will relish the action as their heroes confront formidable foes, while readers who have come to love the characters will enjoy following the different individuals as they take the stage in scenes that are usually dramatic, often witty, and occasionally surprising. A satisfying, penultimate entry in the Heroes of Olympus series."—Booklist Online
Rick Riordan (www.rickriordan.com) is the author of the # 1 New York Times best-selling Percy Jackson and the Olympians series, as well as the #1 best-selling The Heroes of Olympus series, and The Kane Chronicles series. His previous novels for adults include the hugely popular Tres Navarre series, winner of the top three awards in the mystery genre. He lives in Boston, Massachusetts with his wife and two sons.