Don't Let the Pigeon Finish This Activity Book!-Pigeon series
Spiral-Bound | October 2, 2012
Mo Willems
Rebinding by Spiralverse™
★★★★☆+ from 101 to 500 ratings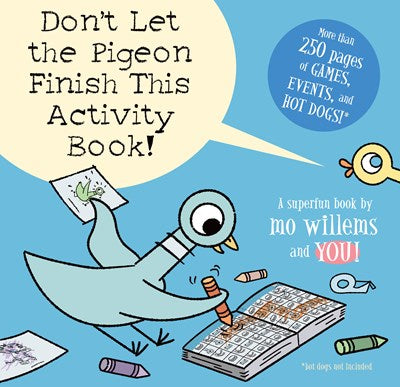 The Pigeon really, really wants to finish this activity book! But that pesky Duckling keeps getting in the way. Oh, and there's someone new on the scene causing all kinds of problems....

Follow the Bus Driver's lead as you write, color, draw, create--even build an airport!--in this fun-filled book starring the Pigeon and YOU.

Mo Willems (www.pigeonpresents.com), a number one New York Times best-selling author and illustrator, has been awarded a Caldecott Honor on three occasions (for Don't Let the Pigeon Drive the Bus!, Knuffle Bunny: A Cautionary Tale, and Knuffle Bunny Too: A Case of Mistaken Identity). Don't Let the Pigeon Drive the Bus! was also an inaugural inductee into the Indies Choice Picture Book Hall of Fame. Other favorites include the Elephant & Piggie series, Naked Mole Rat Gets Dressed and City Dog, Country Frog, illustrated by Jon J Muth.

Mo began his career on Sesame Street, where he garnered six Emmy Awards.
See above.