Tales from the Odyssey, Part 1
Spiral-Bound | May 4, 2010
Mary Pope Osborne
Rebinding by Spiralverse™
★★★★☆+ from 1,001 to 10,000 ratings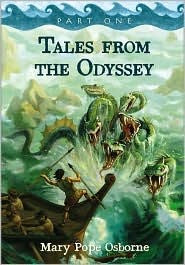 Giants and Cannibals!
Wonders and Witches!
One Amazing Hero.

Brave Odysseus is far from home, tossed by stormy seas, and cursed by an angry one-eyed giant. If he ever wants to see his family again, he will have to face hungry cannibals, outwit a beautiful witch, and sail past a six-headed serpent. His journey is the ultimate test of endurance and courage.

In this exciting series, best-selling author Mary Pope Osborne retells Homer's Odyssey, one of the most thrilling adventure stories of all time.

Mary Pope Osborne(www.marypopeosborne.com) is the author of the best-selling series The Magic Tree House. She has also written many acclaimed retellings of myths and folktales and works of historical fiction.