Aligning Strategy and Sales: The Choices, Systems, and Behaviors that Drive Effective Selling
Spiral-Bound |
Frank V. Cespedes
Rebinding by Spiralverse™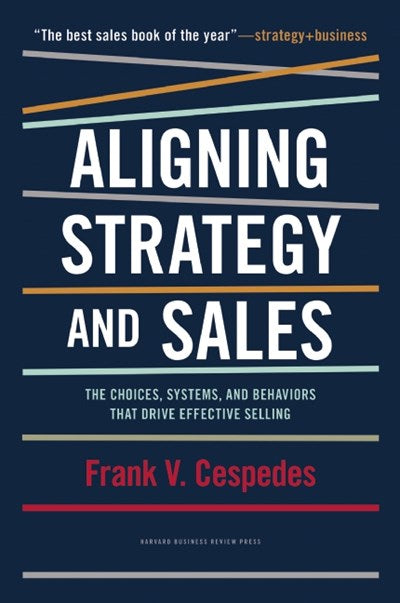 "The best sales book of the year" — strategy+business magazine
That gap between your company's sales efforts and strategy? It's real—and a huge vulnerability. Addressing that gap, actionably and with attention to relevant research, is the focus of this book.
In Aligning Strategy and Sales, Harvard Business School professor Frank Cespedes equips you to link your go-to-market initiatives with strategic goals. Cespedes offers a road map to articulate strategy in ways that people in the field can understand and that will fuel the behaviors required for profitable growth. Without that alignment, leaders will press for better execution when they need a better strategy, or change strategic direction with great cost and turmoil when they should focus on the basics of sales execution.
With thoughtful, clear, and engaging examples, Aligning Strategy and Sales provides a framework for diagnosing and managing the core levers available for effective selling in any organization. It will give you the know-how and tools to move from ideas to action and build a sales effort linked to your firm's unique goals, not a generic selling formula.
Cespedes shows how sales efforts affect all elements of value creation in a business, whether you're a start-up seeking to scale or an established firm looking to jump-start new growth. The book provides key insights to optimize your firm's customer management activities and so improve selling and strategy.
"A great sales book . . . With thoughtful, clear, and engaging examples, Cespedes provides a framework for diagnosing and managing the core levers for effective selling in any organization." — Sales Pro Insider
"…the best sales book of the year. I know we've got a few months left in 2014, but I'm not too worried that I'll be proven wrong—I've been waiting for a sales book like this one for a long time and the odds that another will appear before December 31 are long indeed." "…Aligning Strategy and Sales is well worth the cover price." — strategy+business magazine
"With so many books focused on the elevator pitch, closing the sale, or other minute sales techniques, Aligning Strategy and Sales is a refreshing change of pace." — 800 CEO READ
"…the book is a must read." — Gartner
Frank Cespedes was named one of the "Top 50 Sales & Marketing Influencers" by Top Sales World
"Finally . . . a business book with real, pragmatic insight about the crucially important, but often ignored, discipline of sales and why it's vital to any plausible strategy. Written in an effective and sometimes edgy tone, Aligning Strategy and Sales is a compelling playbook for companies looking to accelerate their growth." —Lou D'Ambrosio, Chairman, Sensus; former CEO, Sears Holdings and Avaya Inc.
"You spend a lot on sales. A LOT. Read Cespedes' wise words to get a better handle on how to make your sales investments pay off through smart, strategic alignment." —Jeffrey Bussgang, General Partner, Flybridge Capital Partners
"It often feels like salespeople are from Mars and strategists from Venus. Little wonder so many strategies fail when tested by real-world customer contact. Whether you are in sales, strategy, or a CEO, you should read this book. It addresses thorny issues like culture and compensation, and it will help you get results." —Charles Wilson, CEO, Booker Group
"The execution of strategy within an organization is dependent on two critical elements: the creation of a culture that enables strategy execution, and the ability of the sales force to execute on the sales tasks aligned to the strategy. And this is what Frank Cespedes manages to do with Aligning Strategy and Sales."—Mardia van der Walt, Senior Vice President, Middle East and Africa, T-Systems International
"Frank Cespedes has brilliantly captured why aligning strategy and sales is so darn difficult. He walks you through the alignment process in a methodical yet witty manner, reminding you of the nitty-gritty intricacies that will provide the wind in the sails of your strategy. This book should be required reading for all senior executives and sales managers." —Jeanne O'Kelley, cofounder and CEO, Blueprint Technologies
Frank V. Cespedes is the MBA Class of 1973 Senior Lecturer of Business Administration at Harvard Business School. He has run a business, served on the boards of established corporations as well as start-ups, and consulted to companies around the world. He is the author of six books and many articles in Harvard Business Review, the Wall Street Journal, California Management Review, and other publications.