The Empowered University: Shared Leadership, Culture Change, and Academic Success
Spiral-Bound | November 12, 2019
Freeman A. Hrabowski III, Philip J. Rous (With), Peter H. Henderson (With)
Rebinding by Spiralverse™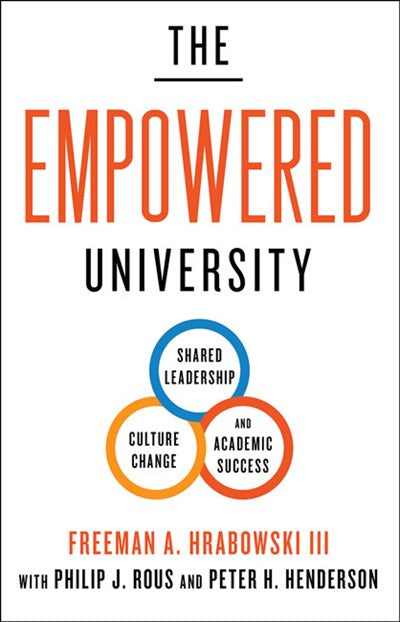 A practical and hopeful examination of how colleges and universities can create the best possible experience for students and faculty.
There are few higher education leaders today that command more national respect and admiration than Freeman A. Hrabowski III, the outspoken president of the University of Maryland, Baltimore County. Named one of America's Best Leaders by US News & World Report and one of Time's 100 Most Influential People in the World, Hrabowski has led a community transformation of UMBC from a young, regional institution to one of the nation's most innovative research universities.
In The Empowered University, Hrabowski and coauthors Philip J. Rous and Peter H. Henderson probe the way senior leaders, administrators, staff, faculty, and students facilitate academic success by cultivating an empowering institutional culture and broad leadership for innovation. They examine how shared leadership enables an empowered campus to tackle tough issues by taking a hard look in the mirror, noting strengths and weaknesses while assessing opportunities and challenges.
The authors dig deeply into these tough issues in higher education ranging from course redesign to group-based and experiential learning, entrepreneurship and civic engagement, academic inclusion, and faculty diversity. The authors champion a holistic approach to student success, focusing on teaching and learning while offering an array of financial, social, and academic supports for students of all backgrounds. Throughout the book, the authors emphasize the important role of analytics in decision-making. They also explore how community members and senior leaders can work together to create an inclusive campus through a more welcoming and supportive racial climate, improved Title IX processes, and career support for faculty of all backgrounds.
Ultimately, The Empowered University is as much a case study of the authors' work as it is an examination of institutional change, inclusive excellence, and campus-community partnerships. Arguing that higher education can play a unique role in addressing the fundamental divisions in our society and economy by supporting individuals in reaching their full potential, the authors have developed a provocative guide for higher education leaders who want to promote healthy and productive campus communities.
In The Empowered University, [Hrabowski] describes a theory of shared leadership within a campus culture that is proudly aspirational, driven by clear mission and values: people first; shared governance; innovation and risk taking; and 'inclusive excellence,' the improvement of academic success for all students.
—Carolyn Dever, Public Books
Freeman A. Hrabowski III served as president of the University of Maryland, Baltimore County from 1992 to 2022 and as chair of the President's Commission on Educational Excellence for African Americans under President Obama. He is the author of The Empowered University: Culture Change, Shared Leadership, and Academic Success.