Slow Down: 50 Mindful Moments in Nature
Spiral-Bound | September 1, 2020
Rachel Williams, Freya Hartas (Illustrated by)
Rebinding by Spiralverse™
★★★★☆+ from 101 to 500 ratings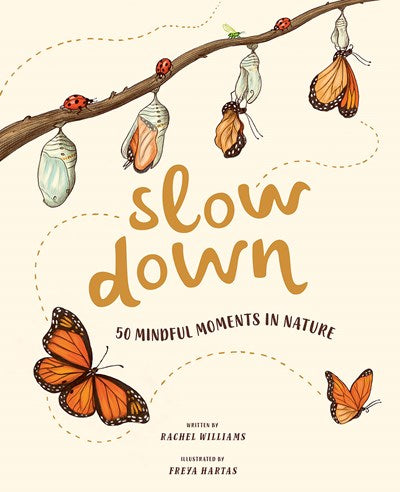 Bestselling author Rachel Williams and illustrator Freya Hartas invite children to Slow Down and watch 50 nature stories that command calm and foster mindfulness.

All around us, nature is working wonders. Every day, hour by hour, magical transformations happen right in front of you. But it's not always easy to see them . . . In this beautifully illustrated collection, 50 moments in nature are paused for you to watch them in detail. Then you should go outside and explore and see what you find when you take the time to slow down. Gorgeously illustrated, this charming collection celebrates the small wonders happening all around us every day.

Slow Down series:
Slow Down
Slow Down and Be Here Now
Slow Down . . . In the Park
Slow Down . . .On Your Doorstep

**STARRED REVIEW**
"This immaculately illustrated tome intended for elementary-age naturalists is sure to charm observers outside that audience as well... Splendiferous!"
-Kirkus Reviews
Rachel Williams studied literature before becoming an editor and publisher of children's books. She is also the creator of bestselling natural history and adventure books, including the Atlas of Adventures series and Illuminature. She lives with her husband and daughter in London.

Freya Hartas is a UK-based children's book author and illustrator who graduated from Falmouth University in 2014 with first-class honors and a BA in illustration. She lives in the vibrant city of Bristol.