Sofia Valdez, Future Prez
Spiral-Bound | November 5, 2019
Andrea Beaty
Rebinding by Spiralverse™
★★★★☆+ from 1,001 to 10,000 ratings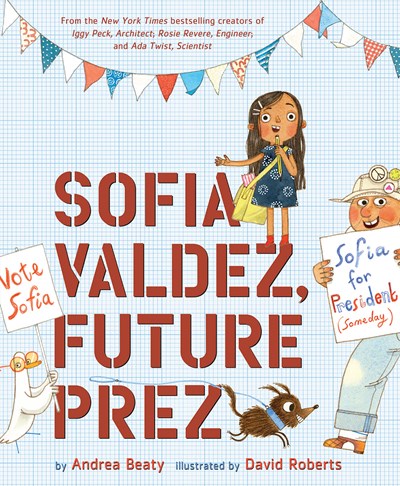 From Andrea Beaty and David Roberts—the creators of Iggy Peck, Architect; Rosie Revere, Engineer; and Ada Twist, Scientist—Sofia Valdez, Future Prez is a picture book story about a community leader who stands up for what she believes in!#1 New York Times bestseller! USA Today bestseller!Wall Street Journal bestseller!"This rhyming romp reminds readers that one young person can make a difference." ―Kirkus Reviews
Told in charming rhyme, this lovely story will both entertain and inspire:
Raking the leaves, taking pets for a walkOr just dropping by for a treat and a talk,Sofia Valdez did as much as she could for her family and friends and her whole neighborhood.
Every morning, Abuelo walks Sofia to school . . . until one day when Abuelo hurts his ankle at a local landfill, and he can no longer do so. Sofia (aka Sofi) misses her Abuelo and wonders what she can do about the dangerous Mount Trashmore.
Then she gets an idea: the town can turn the slimy mess into a park! She brainstorms and plans and finally works up the courage to go to City Hall—only to be told by a clerk that she can't build a park because she's just a kid! Sofia is down but not out, and she sets out to prove what one kid can do.
Young readers who join Sofia in her story will learn that they can make a difference, help their community, or one day become president of the United States!
Check out all the books in the Questioneers Series
:
The Questioneers Picture Book Series: Iggy Peck, Architect Rosie Revere, Engineer Ada Twist, Scientist Sofia Valdez, Future Prez Aaron Slater, Illustrator Lila Greer, Teacher of the Year
The Questioneers Chapter Book Series: Rosie Revere and the Raucous Riveters Ada Twist and the Perilous Pants Iggy Peck and the Mysterious Mansion Sofia Valdez and the Vanishing Vote Ada Twist and the Disappearing Dogs Aaron Slater and the Sneaky Snake
Questioneers: The Why Files Series: Exploring Flight! All About Plants! The Science of Baking Bug Bonanza! Rockin' Robots!
Questioneers: Ada Twist, Scientist Series: Ghost Busted Show Me the Bunny Ada Twist, Scientist: Brainstorm Book 5-Minute Ada Twist, Scientist Stories
The Questioneers Big Project Book Series: Iggy Peck's Big Project Book for Amazing Architects Rosie Revere's Big Project Book for Bold Engineers Ada Twist's Big Project Book for Stellar Scientists Sofia Valdez's Big Project Book for Awesome Activists Aaron Slater's Big Project Book for Astonishing Artists
"Fun but earnest, this rhyming romp reminds readers that one young person can make a difference."—Kirkus Review
Andrea Beaty is the author of many beloved children's books, including the bestselling Questioneers series, I Love You Like Yellow, Happy Birthday, Madame Chapeau, and One Girl. She lives just outside Chicago.

David Roberts has illustrated many children's books, including the bestselling Questioneers series. He lives in London. Andrea and David are both executive producers of the Emmy Award–winning show Ada Twist, Scientist on Netflix.