Quick & Legal Will Book  (9th Edition)
Spiral-Bound | May 26, 2020
Denis Clifford
Rebinding by Spiralverse™
★★★★☆+ from Up to 30 ratings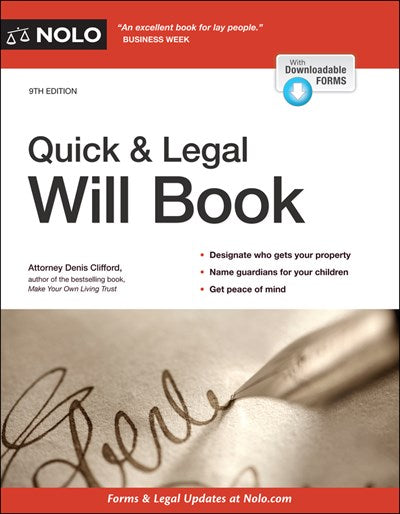 In all 50 states, if you die without an estate plan, state law determines what happens to your property. The
Quick & Legal Will Book
shows you how to take control of those decisions. Use this book to create a will to distribute your property, name an executor, and set up guardianships for your children and their property.
Your will, made easy
Write a will that suits your needs with a minimum of fuss. This book provides all the forms and step-by-step instructions you need to create a simple, valid will that protects your family and property after your death.
Make a will that lets you:
name beneficiaries to inherit your assets
choose a guardian for young children
set up trusts for minors, and
name an executor (and a backup).
Learn how to:
choose appropriate witnesses
finalize your will, and
revoke or change your will if necessary.
This book also explains basic estate planning, including steps you can take to avoid probate court. The updated 9th edition includes the latest changes in federal estate tax law and a new appendix that lists state probate exceptions.
With Downloadable Forms: download wills, a beneficiary worksheet, and other forms (details inside).
"An excellent book for lay people."
BusinessWeek
"The most streamlined, yet thorough information available on how to write a valid will quickly and safely without a lawyer."Long Beach Press-Telegram
"This guide for general readers offers plain language, bullets, tips, cautions, and directions for creating a will; it also covers estate planning. The chapters go through the process of writing a basic will, with a final chapter on writing a more complex will. Coverage includes beneficiaries, property ownership, children, executor, estate planning, preparing the draft of the will, signing the final will, storing and copying the will, and changing or revoking the will. The book contains worksheets, fill-in-blank wills, and other forms. A companion web site offers downloadable forms. This eighth edition matches recent changes in federal estate tax law." Eithne O'Leyne, Editor Ringgold, Inc. ProtoView
Denis Clifford, a graduate of Columbia Law School, where he was an editor of The Law Review, is a lawyer who specializes in estate planning. He is the author of many Nolo titles, including Quick and Legal Will Book, Make Your Own Living Trust and Plan Your Estate and coauthor of A Legal Guide for Lesbian and Gay Couples. He has been interviewed by such major media as The New York Times, Los Angeles Times, and Money Magazine.