Be Your Future Self Now: The Science of Intentional Transformation
Spiral-Bound | June 14, 2022
Dr. Benjamin Hardy
Rebinding by Spiralverse™
★★★★☆+ from 1,001 to 10,000 ratings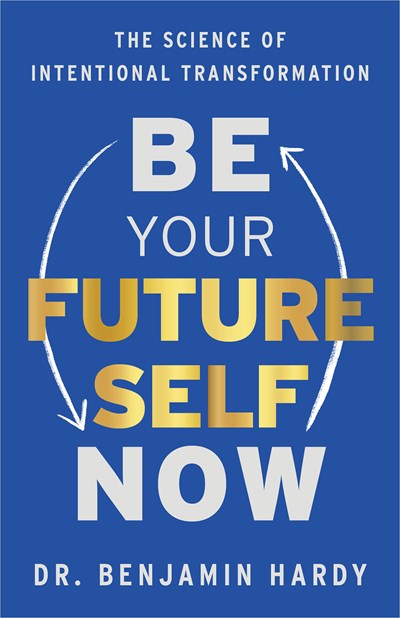 This isn't a book about BECOMING it's about BEING: noted psychologist Dr. Benjamin Hardy shows how to imagine the person you want to be, then BE that person now. When you do this, your imagined FUTURE directs your behavior, rather than your past.

Who is your Future-Self?

That question may seem trite. But it's literally the answer to all of your life's questions. It's the answer to what you're going to do today. It's the answer to how motivated you are, and how you feel about yourself. It's the answer to whether you'll distract yourself on social media for hours, whether you'll eat junk food, and what time you get up in the morning.

Your imagined Future-Self is the driver of your current reality. It is up to you to develop the ability to imagine better and more expansive visions of your Future-Self.

Your current view of your Future-Self is very limited. If you seek learning, growth, and new experiences, you'll be able to imagine a different and better Future-Self than you currently can.

It's not only useful to see your Future-Self as a different person from who you are today, but it is also completely accurate. Your Future-Self will not be the same person you are today. They will see the world differently. They'll have had experiences, challenges, and growth you currently don't have. They'll have different goals and priorities. They'll have different habits. They'll also be in a different world—a world with different cultural values, different technologies, and different challenges.
"Knowing your Future Self is key to living powerfully and purposefully. Dr. Benjamin Hardy has laid out the groundwork and science so that you can not only know your Future Self intimately, but you can also transform your life." - Tony Robbins, #1 New York Times best-selling author of Life Force
Dr. Benjamin Hardy is an organizational psychologist, author, and the world's leading expert on the application of the Future Self science. His books have sold hundreds of thousands of copies, and his blogs have been read by hundreds of millions. He and his wife, Lauren, are the parents of six kids. They live in Orlando, Florida.