Primer
Spiral-Bound | June 23, 2020
Jennifer Muro, Thomas Krajewski, Gretel Lusky (Illustrated by)
Rebinding by Spiralverse™
★★★★☆+ from 1,001 to 10,000 ratings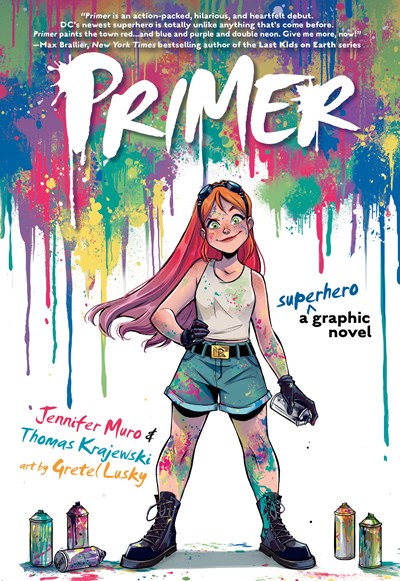 Artistry and super-heroics collide ain this new superhero story!

Thirteen-year-old Ashley Rayburn is an upbeat girl with a decidedly downbeat past. With a father in prison, Ashley has bounced from foster home to foster home and represents a real challenge to the social workers who try to help her--not because she's inherently bad, but because trouble always seems to find her.

Things start looking up for Ashley when she finds new, loving parents, a best friend, and an outlet for her creative skills. But her life quickly gets more complicated when she also finds a suitcase full of specially enhanced body paints, changing her from artist to the world's newest superhero. It's the greatest thing to happen in her life so far, until Ashley finds herself pursued by a government agency that wants those paints back! Now she has to make hard choices to protect her new parents and learn what it truly means to be a family.

From writers Jennifer Muro (Star Wars: Forces of Destiny) and Thomas Krajewski (Netflix's Buddy Thunderstruck) and artist Gretel Lusky comes a brand-new superhero for the DC Universe in a story that is alternately fun, dramatic, emotional, and uplifting.
Since 2004, Tom Krajewski has been writing animation for Nickelodeon, Disney, Warner Bros., the BBC, and Cartoon Network. Titles he has worked on include Teenage Mutant Ninja Turtles, Iron Man, Looney Tunes, Scooby-Doo, and The Fairly OddParents. He is also the head writer on the Netflix series Buddy Thunderstruck.

Jennifer Muro is the writer of the Lucasfilm series Star Wars: Forces of Destiny. She's also written for Justice League Action, DC Super Hero Girls, Marvel's Spider-Man, and is currently working on Critical Role's The Legend of Vox Machina series.

Gretel Lusky is a character designer and visual development artist for animation. Primer is her debut graphic novel.

She loves animals, mermaids, tattoos, poetry, nature, fantasy, traveling, and superheroes.