The Oak Inside the Acorn
Spiral-Bound |
Max Lucado, George Angelini (Illustrated by)
Rebinding by Spiralverse™
★★★★☆+ from 501 to 1,000 ratings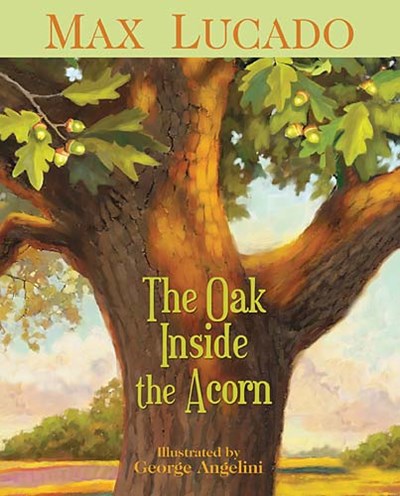 It was hard for Little Acorn to believe he would ever be a big, strong oak tree. Soon Little Acorn grew into Little Oak. But now what was he to do? He couldn't grow oranges like the orange tree or flowers like the rose bush. He just grew and grew until he became Big Oak.
Every person is tasked with learning why they were created and the unique gifts that make them special. Written by New York Times bestselling author Max Lucado, The Oak Inside the Acorn teaches about the incredible miracle inside each of us while reminding us that we were created by God for a special purpose.
The story highlights the adventure of a sweet little acorn becoming a big, strong oak tree. Readers will cheer on the growing tree when he can't grow oranges like the orange tree or flowers like the rose bush. Children will read with wonder as the tree grows empty branches, and later, a very special purpose is revealed.
The Oak Inside the Acorn is an inspiring picture book for readers, ages 6 to 10 that shows
All of God's creations have purpose and contribute to the well-being of others
Patience is a process, and it takes time to grow into all God created them to be
Life is a journey, and God has a plan for them through the ups and downs
This wonderful picture book makes an excellent
Bedtime story for snuggling close with little ones
Inspirational gift for graduation, baptism, baby showers and dedications, and adoptions
Read aloud story time to help children understand all they were created to be
Since entering the ministry in 1978, Max Lucado has served churches in Miami, Florida; Rio de Janeiro, Brazil; and San Antonio, Texas. He currently serves as the teaching minister of Oak Hills Church in San Antonio. He is the recipient of the 2021 ECPA Pinnacle Award for his outstanding contribution to the publishing industry and society at large. He is America's bestselling inspirational author with more than 145 million products in print.
Visit his website at MaxLucado.com
Facebook.com/MaxLucado
Instagram.com/MaxLucado
Twitter.com/MaxLucado
Youtube.com/MaxLucadoOfficial
The Max Lucado Encouraging Word Podcast